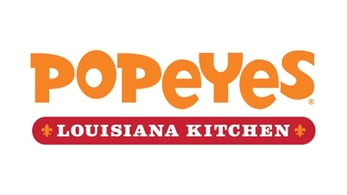 Our clients love us and we love them right back! We're constantly amazed by their ingenuity and accomplishments. Their ideas and requests are what keep us on the leading edge of restaurant business solutions. Each month we shine the light on our clients, their accomplishments and what they're doing to increase their restaurant profit margin.
---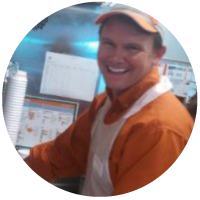 John Pinkard, Director of Operations Analytics, Popeyes Louisiana Kitchen
For over 40 years Popeyes has been serving up Louisiana style chicken & biscuits, fast
• Mirus Client since 2014
Popeyes Louisiana Kitchen has been on a mission to grow the brand and build excitement for their franchisees. Under the leadership of CEO Cheryl Bachelder, they've been knocking it out of the park. I think the marketing behind their latest promo featuring Red Stick Chicken is brilliant and amusing. If you haven't played Red Stick Staredown you should download it now and test your skills.
At our most recent user conference, I had the pleasure of sitting down and talking with John about his unique experience with Mirus. He shares how he has utilized Mirus in both Operations and Marketing (with a previous company who is also a Mirus customer), to dig deeper and how that has lead to higher restaurant profit margins.
---
Leslie: How has partnering with Mirus impacted your business?
John: It's helped me personally to be able to dig a lot deeper and have a lot of the Aha's answered.
Leslie: Give me an aha example.
John: Someone came to me once and wanted to know if someone orders bottled water, what else is going to show up on the ticket.
Well, we thought they're really healthy and they're going to have the sandwich or a salad. You'd be surprised to see that onion rings were a much higher incidence. What I learned from that, which I was so surprised, is the customer that knows they can add bottled water instead of a soda is more aware of the menu. They're going to add on an onion ring, which a normal, new user might not have known about. So a savvy customer orders new different things.
Leslie: How are you currently using 2-step filtering?
John: Currently, I'm using it for Operations Analytics a lot. We've got some really great data. I can look if there are some issues with overtime with a certain store. And the great thing is right now I'm sending an exception based report to the head of operations for our corporate locations but pretty soon I'm going to introduce a security measure where each individual store will be getting to see how they're performing against the other stores in their DMA.
Another area I use 2-step filtering is when looking at menu items. Mirus really empowers you to go through and look at your checks and see the item you were getting ready to cut and what else is on the check with it. What profit are you getting ready to lose if you cut that item. Mirus helps you not make, knee jerk reactions. It helps you really get to the root of how that item is performing, not just on the menu but in the overall health of your overall profit.
*2-Step filtering is a form of exception based reporting. Using a reporting engine you can narrow down information in a report based on a certain criteria (step 1) and further narrow down that information based on a 2nd criteria (step 2). 2-Step filtering allows you to quickly sort through your information and answer questions like, "if someone buys a bacon cheeseburger, what else are they buying?"
Leslie: What other Mirus tools do you utilize?
John: Another really great tool I've used is the weather function. That's been really great value added, with some of the changes we've had from a weather standpoint over the past year. When you're forecasting out your operations and your staffing, you may see you had a really low sales day but you need to know what was going on that day. If there was a huge blizzard there the year before you need to know that you probably still need to staff as if it were a regular day versus a blizzard.
Leslie: Who in your organization uses Mirus?
John: My team, I've really gotten them up and working on Mirus. They've picked up on it really quickly. Especially if they're already familiar with pivot tables it's just intuitive. You can almost self teach.
Leslie: What were you using before Mirus?
John: A lot of Excel. We have a lot of disparate point of sale systems and the good thing about Mirus is that you can bring in a lot of disparate point of sale systems and bring all that information together. Mirus has great tools that can help map different point of sale systems so you have the same dimension maintenance and you can match apples to oranges. Even if it's on a different point of sale system, if it's rung up completely different, if your sides are done up in a totally different way on a point of sale system. Mirus has the tools that help you roll it all up together and get one collective view of how a menu item is performing.
Leslie: What is the difference in going from Excel to Mirus?
John: Excel is so manual and you have to restart every time. You have to re-map and re-code. I remember before I started using Mirus at Arby's, sitting there and manually coding each one of the different menu items. I was like, there's got to be a better way than this. Then I was introduced to Mirus.
Leslie: How would you describe Mirus?
John: I would describe Mirus as an online pivot tool with an account manager that helps you bring disparate points of data that might not necessarily talk to each other together. All these different, weird platforms, whether it's a .csv file or if a file you can regularly automate and send to Mirus everyday, you can bring those all together and look at what the key drivers are of sales at a certain store or a certain menu item and figure out a compelling story.
Leslie: Why is that important?
John: Every company has a lot of systems that they work with. Using Mirus you can bring it all together. Bring in voice of the customer, customer service results, speed of service, your menu mix, your hourly and labor mix and you have one place where you can have it all set and that's one of the key benefits of Mirus for me.
Leslie: What makes Mirus different?
John: Mirus is different because it's really focused on the restaurant industry and other tools I've heard from or talked to don't know the industry quite as well. Mirus brings together experts that know the business and understand how it works. They understand marketing and operations. They really have a lot of tools and they'll work collaboratively to develop new tools if they don't currently have it, like the balanced scorecard.
Learn more about custom reporting in restaurants. Download an informative PDF.
---
About Mirus:
Mirus provides services in data management and solutions in custom reporting for the restaurant industry.
Learn more at mirus.com
Watch Mirus demo and client insight videos on our YouTube Channel
If you enjoyed this blog, please share it by using the social buttons at the top of the page and leave your thoughts in the comment section below.