Our clients love us and we love them right back! We're constantly amazed by their ingenuity and accomplishments. Their ideas and requests are what keep us on the leading edge of restaurant business solutions. Each month we shine the light on our clients, their accomplishments and what they're doing to increase their restaurant profit margin.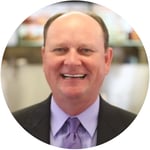 Bennie Arbour, CEO
Goldco, LLC
46 Unit Burger King Franchisee
Mirus Client since 2014
Goldco CEO Bennie Arbour has been with the Burger King Brand for over 30 years. When he moved from COO to CEO in 2014 he made some big organizational changes to align the company's 1,400 employees. One of the changes he made was to implement tools like Mirus to help manage the business and drill down into what is really going on. Since implementing these cultural changes Goldco has seen positive year over year results in the areas of revenue, traffic, operations and earnings.
I recently had the opportunity to talk with Bennie about how he uses alerts and dashboards as part of his metric based incentive program to motivate his team.
---
You're having a great year. Tell me about the changes you've made at Goldco because they're clearly paying off.
We reorganized the company last year and I sold off 61 units. I re-engineered everything inside the organization. I put a strategic plan together that basically re-aligned the entire company, brought in people like Mirus and put a complete new team in place in the field. It took several months but the traction we're getting is phenomenal.
What do you credit that phenomenal traction to?
I think the biggest credit goes to out to the tools and things we're putting in place, but another big thing that I've been able to deliver on, is the monthly meeting I hold with my team, I call it a rally. I bring in my DMs, HR, admin and every single restaurant manager. Everybody is there so they're getting one message every month and everybody is moving in one direction. On top of that we're paying $35,000 out a month in bonuses for the restaurants that are hitting the targets. I pay monthly from the restaurant manager all the way down to the crew members. They're hitting the targets and you know what, it's paying off.
Why did you choose Mirus?
We were looking for something with a dashboard that would give us that real truth drill down by cashier, by moment, by ticket, that Menulink does not provide. We were looking for a drill down that we could use to identify issues and potential learning experiences.
Give me an example of what you are looking at.
One particular example would be a discount by hour. These reports are automatically sent out of Mirus now. They go out to every DM and identify by restaurant by hour what the discounts were, whether it's an employee meal, manager meal, fire/police, 100% off customer recovery, which is a big area we have theft in. Then if we see something we can drill down and actually see the ticket. By doing that we've actually been able to unfortunately catch a few managers hiding stuff under customer recovery and things like that. But it's really cool because the dashboard will give you everything automated, all you have to do initially is set it up and then let the reports come that way and then you manage the process.
How does automation benefit your company?
The automation allows my team to continue to focus on the daily operations that make a difference to maintain a high-level organization. We don't have a lot of time to spend looking at reports, pulling reports, and putting reports together. The auto report is just dynamite because once you know what you want, you set it up and boom it's there. All you have to do is review it and if you have to dig in a little further you can. It's going to give you everything you need to manage the business number one on a promotions standpoint and number two on the items that happen everyday. But really more importantly it helps you manage the theft and making sure that things are right.
How are you using Mirus to detect fraud?
We have a report that goes out, it's a discount by hour. It's an auto report, it tells you by hour, by restaurant what the discounts were. Then we also have a report that's automatic that comes out by cashier that identifies how many voids they've had so you can track. Trackability is there so we can identify the cashiers that probably have theft issues. In fact once we started investigating using reports in Mirus combined with our camera system, sure enough we figured out where we had to eliminate some individuals.
You've had to eliminate some problems already?
Unfortunately, it's always a non-stopping, ongoing process, but yes we have. I don't have the exact numbers because it's an ongoing process but I can tell you right now we got into a situation where our product line variance, which we have down to a science, was in the 1.5% range which is completely out of our threshold of 1.1%. Then we really started getting the reports in Mirus set up by cashier and started identifying some of those problematic areas we have theft from and this past month we got it down to 1.0%. So it was good. Turnover has been there even on the management side unfortunately, but hey it's the nature of the business and you just have to put all the tools in place to help you manage that whole process.
What do you tell your managers about catching fraud?
It's really hard to catch somebody even if you're working side by side with them in the restaurant. Because typically the ones that are stealing in the drive thru are your most proficient people and it's unfortunate you can be working side-by-side and not even know it. That's why you have to have these tools and everyone has to utilize the tools to the fullest and make sure we catch it and stay on top of it every single day.
You've also been catching and rewarding your employees for doing a good job.
We pay bonuses out on upselling. With our Account Manager's help we've set up automatic reports to measure promotions, like our cookie sales, and help us manage the business. It's wonderful because you can actually see a snapshot of your restaurant without having to go through some big spreadsheet. You can see what the average is per day per restaurant. So those reports are extremely important. In February we were averaging 30 cookies a day and today we're averaging right at 80 to 90 a day in some cases of a dollar cookie per restaurant.
What do you think led to the uptick in the cookie sales?
Number One we can identify now with Mirus because before it was too difficult through Menulink but we can actually with that auto-report track it by cashier, we can track it by restaurant, by day and understand how many cookies they're actually selling. Then on top of that I also put an incentive behind it where the restaurant if they hit their target of index on upselling cookies and measures from the previous month then they get a bonus, all the way down to the hourly crew member.
---
Want to learn more about Bennie and other clients?
Join us at our annual user conference.
Thoughts?
Have any question for our clients? Please share your comments and any other tips that may be helpful!
About Mirus:
Mirus is a multi-unit restaurant reporting software used by operations, finance, IT, and marketing.

For more information, please visit: www.mirus.com
If you enjoyed this blog, please share this post by using the social buttons at the top of the page and make sure to leave your thoughts in the comment section below!