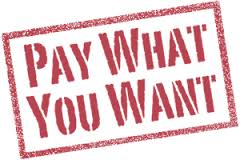 Just what exactly is a "Pay What You Want" restaurant?
If you have a few dollars, your restaurant options are numerous. But if you don't have much, your choices may not be as limited as you think. The "Pay What You Want" restaurant concept is blossoming. This model has become an emerging trend that allows diners to determine the price of a meal. When we think about this concept, images of soup kitchens or holiday serving lines may come to mind. But Pay What You Want has been elevated to a surprising level of sophistication. Think three courses, celebrity chefs and even ingredients like truffles.

While most are non-profit, a few actually manage to make money relying on the honor code. Culinaire Werkplaats in Amsterdam is blazing the trail for high end fare. This "stunning experimental Amsterdam restaurant and design studio is a little different than most other pay what you can restaurants. Founders Marjolein Wintjes and Eric Meursing wanted to create a unique dining experience that will make diners question their food. While alcohol and drinks have fixed prices, you can pay whatever you think the food is worth. The current menu includes dishes like Water (bouillon, fennel, black olive, tomato, potato and sour cream) and Pearls (black quinoa, black beans, truffle, potato, black carrot and lemon)".(deculinairewerkplaats.nl)

Other models give diners the opportunity to volunteer in exchange for a meal. Singer turned philanthropist Jon Bon Jovi runs JBJ Soul Kitchen that serves a 3 course meal for a suggested donation of $10. While that's already a good deal, there's a chance it might be prepared by a guest chef like Mario Batali or George Hirsch. If you can't swing the $10, you can wash dishes, serve food or restock. Main courses have included shredded slow-cooked beef stew with olives, carrots and onions over rice, or vegetarian chili with house chips and sour cream. (jbjsoulkitchen.org)

Even an industry giant like Panera is exploring this territory. "The nationwide bakery chain has five stores around the country with a suggested donation amount instead of prices (in Dearborn, Michigan; Portland, Oregon; Chicago, Boston and St. Louis, if you want to get to one). The menu is the same as at all Panera's restaurants: lots of soups and sandwiches, like a roast turkey and avocado BLT, and broccoli-cheddar soup. Anyone who can't pay the suggested donation amount has the option of volunteering at the café in exchange for his or her sandwiches". (foodandwine.com)

Operations like these, while oftentimes not profit-focused, still recognize the need for more information. Understanding which items are most popular for paying customers is important. "Making Big Data more readily available can increase the speed and accuracy with which social interventions can be deployed. Big Data can enable better monitoring and evaluation of programs and policies, and allow better identification of improvements to programs and policies. Big Data allows more targeted and tailored interventions and initiatives to ensure maximum impact. Analysis of Big Data can also improve decision making, for instance, by making risk assessments faster and more accurate. Analysis of Big Data can enable the creation of new products, services and business models to serve disadvantaged population groups". (www.180dc.com)

Mirus has been assisting Panera operators and many others through business intelligence software that increases profitability and transparency which allows for more charitable efforts like the Pay What You Want model.
What Are Your Thoughts?

Please share your stories, comments, and any other tips that may be helpful!



About Mirus:

Mirus provides decision makers across operations, finance and marketing with actionable intelligence. Our analytic software consolidates transactional information and a host of other data sources to measure and improve restaurant performance. Headquartered in Houston, Texas, Mirus is a recognized leader in restaurant business intelligence.

For more information, please visit www.mirus.com
| | |
| --- | --- |
| What can your restaurant's data teach you? | |