Mirus is happy to report that our clients, as measured by the Mirus Index each day, are outperforming both the industry averages, and the government's numbers in the 3rd quarter.
2019 is a pretty good year, so far. But, according to Black Box Intelligence's latest report on sales and traffic, both were negative for July (-1% and -4%, respectively). Both were also negative, albeit marginally, in June (-0.01% and -3.1%, respectively).
| | | |
| --- | --- | --- |
| Month | Black Box - Same Store Sales | Black Box - Traffic |
| June 2019 | -0.01% | -3.10% |
| July 2019 | -1.00% | -4.00% |
Source: Black Box Intelligence
The US government, on the other hand, estimates sales growth of 1.8% in July and 0.4% in June, on a preliminary and adjusted basis. This is not the first time the government's numbers are significantly higher than those within the restaurant industry. Does anyone have an explanation for these ongoing differences?
The chart below shows that Mirus clients have enjoyed a sales gain of over 115 basis points in June and July, and traffic gains of over 200 basis points each month on average for the third quarter, compared to the industry averages measured by Black Box Intelligence.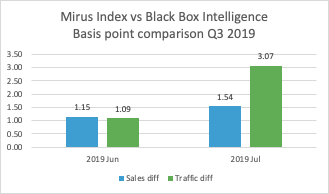 The traffic lift perhaps is most important in these times where competition is fierce and the delivery channel is disrupting previously normal trends. Without traffic increases, it is hard for restaurants to generate positive sales gains without increasing their menu prices.
Data is playing a far more important factor in how chain restaurant companies operate, and how profitable they are. Mirus clients are leaders in their fields for applying what they learn from analyzing their data, in detail. Routinely, they examine every check and every punch-in or punch-out, every day for every restaurant to identify the best opportunities for improved performance. Mirus' exception-based analytics makes this easy and fully automated.
Are you taking full advantage of your data? If you think you can do better, let us know why in the comments below.
---
About Mirus:
Mirus provides services in data management and solutions in custom reporting for the restaurant industry.
Learn more at mirus.com
Watch Mirus demo and client insight videos on our YouTube Channel
If you enjoyed this blog, please share it by using the social buttons at the top of the page and leave your thoughts in the comment section below.