Mirus clients are enjoying increases in sales and traffic way above the industry average. This is not a new or recent trend, it has been true for years. Restaurant companies who measure their performance with Mirus outperformed the industry comp sales increase by 216 basis points in February 2015, and by 295 basis points over the past 3 months.
Our clients also enjoy higher growth in customer traffic. The difference was 207 basis points in February, and 471 basis points over the past 3 months.
We measure this success with our Mirus Index product, which is available for free to all Mirus clients. Mirus Index is the roll up of all our clients' performance, and is available from January 2009 forward.
Here are the latest numbers from Mirus Index and Black Box Intelligence: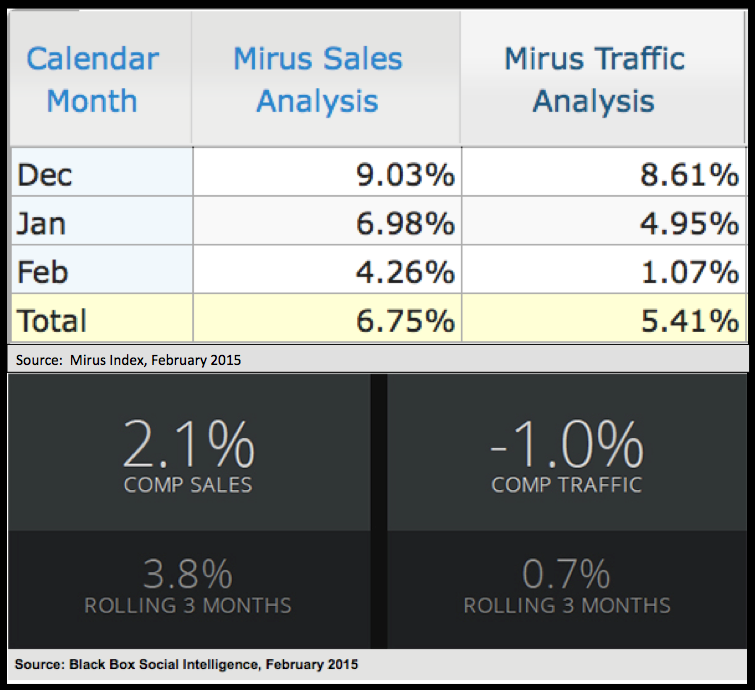 How do Mirus clients consistently out perform the restaurant industry? The details are different from client to client, but we can summarize the common factors:
Ability to consolidate data from all of their key systems, whether they are in-store, at headquarters, or captured by a third party service

Ability to access their data Ad Hoc. Mirus clients can immediately get fact-based answers to their daily questions instead of relying of "gut instincts" or experience alone

Ability to create new groupings on the fly for analysis. If you want to compare a subset of stores, or a subset of Menu Items, or a subset of Employees, Mirus clients can do this on the fly and immediately analyze all of their historical data using the new groups
---
What Are Your Thoughts?
Do you currently mangage restaurant operations using an above store reporting solution?
Do you use spreadsheets or multiple systems?

About Mirus:
Mirus provides decision makers across operations, finance and marketing with actionable intelligence. Our analytic software consolidates transactional information and a host of other data sources to measure and improve restaurant performance. Headquartered in Houston, Texas, Mirus is a recognized leader in restaurant business intelligence.

For more information, please visit www.mirus.com

Want to play with the numbers yourself?