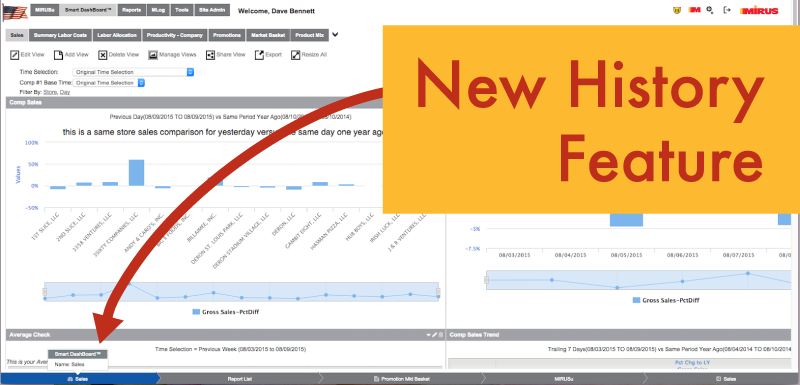 Clients Speak, We Listen
Mirus has created an efficient history widget that allows all users to access the last 10 reports and dashboards they viewed. This feature was conceived during a client meeting with Church's.
The QSR expressed the desire to quickly access recently opened reports and dashboards. Since they have several reports and dashboards, users wanted a quicker way to navigate their data.
How Does It Work?
The history widget is located on reports and dashboards. Check out this overview video:
What's The Big Deal?
Dina Misener, Manager of Application Development, says "From the time Church's expressed their need for a history solution to the time we delivered it was around 2 months. I'm proud of my team for not only delivering fast but taking the time to recognize what Churchs wanted and why. It's important that all our clients understand we're listening. Granted, some requests are easier to accomplish than others but if we can do it, we will."
Dina adds, "I want to thank Church's for working with us and recognize Matt Brock, the Mirus developer who created the initial history widget code. Matt has only been with Mirus for a few months but has already contributed so much!"
What's Next?
If you've dealt with spreadsheets or complex reports, you would understand and appreciate why we are always focusing on making our reporting software seamless and efficient. As we work towards the future, cutting click-streams and creating quicker navigation options will be a priority.
---
Thoughts?
What your favorite reporting feature? Is there a feature you want to request?
About Mirus:
Mirus Restaurant Solutions is a multi-unit restaurant reporting software used by operations, finance, IT, and marketing.
For more information, please visit: www.mirus.com
If you enjoyed this blog, please share this post by using the social buttons at the top of the page and make sure to leave your thoughts in the comment section below!