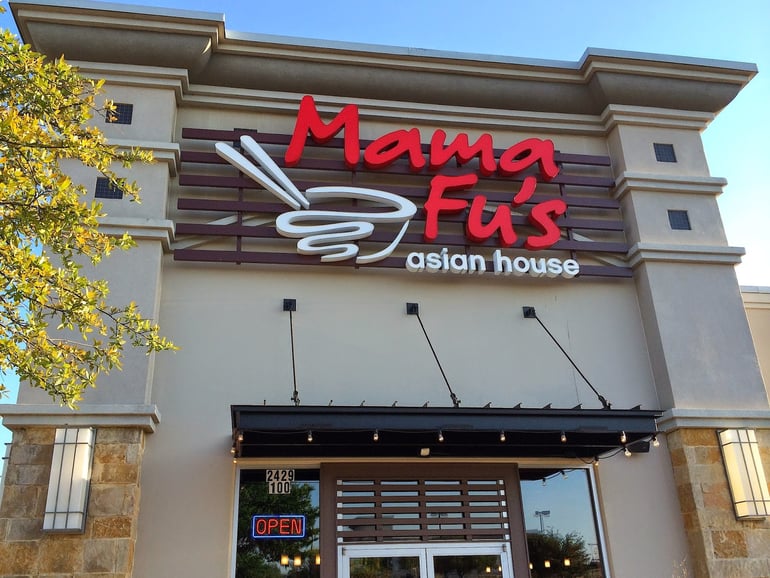 Our clients love us and we love them right back! We're constantly amazed by their ingenuity and accomplishments. Their ideas and requests are what keep us on the leading edge of restaurant business solutions. Periodically we like to shine the light on our clients, their accomplishments and what they're doing to increase their restaurant profit margin.
Mama Fu's brings the legendary flavors and varied tastes of Asia home. Menu highlights include unique tastes and bold flavors from China, Thailand, Vietnam, Japan and Korea. Every dish at Mama Fu's Asian House is prepared made-to-order with the highest quality ingredients and seasonings. Choose from dine-in, takeout, delivery, catering, online and mobile ordering. Their trademarked Flex-Casual service style is time-saving during the day, but allows guests to enjoy a more relaxed experience at night. They currently have 15 locations and 40 locations currently in development.

I got the chance to talk with Lori Nauert, Controller for Mama Fu's who handles a lot of the reporting and analytics for the growing company.

Lori Nauert serves as Controller for Mama Fu's, a Mirus client since May of 2015.
---
How did you guys handle data before Mirus?
As I'm sure a lot of companies do, we started out with spreadsheets. We would receive spreadsheet reports every night from each location with their sales and monthly activities. It was a great but manually intensive system.
How has using a tool like Mirus helped you?
The daily alerts are an immediate benefit. The alerts I've set up tell us what the previous day's sales and labor were. Something as simple as a tender report, which tells us the kind of cash that came in yesterday, has done wonders for us. As a growing company we want to monitor these details more frequently than just once a month. It's really nice to know our level of deposits and the credit card activity without opening 12 different spreadsheets, which is only going to grow as we open more stores. Instead, I have easy access to a specific report along with seamless alerts, which are really nice.
What sorts of things are you looking at in your data?
Pretty much everything from PMix to revenue centers to comp sales. Honestly, we could look at those numbers all day but now we can see what actually drives increases. 60% of our business is off-site so we're always asking questions related to that segment. "How much are we up in delivery or takeout?" "Is our dine-in up or down?" "What do we need to focus on right now?" Having quick answers to these questions has changed our mentality. Here's another example: If our dine-in is down because delivery and takeout is up then there's an opportunity for us to focus on customer service. Since the reporting is done at the store level, you know which locations have opportunities in specific revenue centers. Having that rich and actionable information is so much better than just saying, "Oh sales are up and that's great." Now we understand why we're getting results, which allows us to look at the last 13 weeks and identify trends as well as store and marketing opportunities.
Is there an area you've seen a quick ROI in?
Labor, as in most businesses, is definitely our low-hanging fruit. The great thing is that we can now make an impact on those numbers quickly as opposed to once a month after-the-fact. We know that labor has come down and, while there are a lot of things that this can be attributed to, there's no question that seeing those labor reports allows us to understand what our opportunities really are. When you have it all on spreadsheets the information is there but it might not be presented in the best way. Some of Mirus' greatest features is its ability to customize views and set up daily alerts, which has done wonders for our executive team, allowing us to shorten our reaction times and implement better policies.
Give me an example of something you couldn't do before with your data but can now.
The other day we had a franchisee that basically challenged us to see what our highest sales volume hour of the day was. In the past, our team wouldn't know off-hand but in this instance, I said "I've got a Mirus Report!" I found a Mirus report and I created different versions that allowed me to present our volume by store, day, and hour. It's truly cool to have this functionality. Now we can go back to our franchisees and challenge them by saying, "let's see who can do better, let's see who can make the most money."
Have you been able to streamline any processes?
It's taken so much of the manual work out of data processing and allowed us to provide more stream-lined and efficient presentations. It's helping our payroll tremendously. We do not outsource our payroll. It's all done in-house. We use alerts to keep track of many things, including new employees and pay-rate changes. In the past, our payroll manager would have to figure these things out on her own or rely on the managers, which is fine but the reality is that everybody gets busy. Now, these alerts allow her to be proactive, which has been phenomenal.
You guys hired a consultant to help you roll out Mirus. Tell me about that experience.
We were so fortunate to have Melissa Fletcher on our team as a consultant. It was nice to be able to request customized reports, which she is extremely good at. I soon realized that I needed to learn it myself and just dug in, though I can still piggy-back off of her reports when needed.
Was it hard to learn how to create dashboards and reports with the report writer?
It was scary at first, because I don't learn very well from just watching. When we did some of the training with our account coordinator I wondered, "How am I ever going to learn this?" Fortunately, I found that if something is already created, I can edit it and experiment. It's a lot easier than I initially thought. The great thing about Mirus is that the system tells you if what you're trying to create is possible. If not, you can figure out why. I learn something new every day. Mirus reports are not canned reports that are created with the push of a button, but it's not rocket science either. You just have to learn the method, which is not a hard.
How is Mirus different?
Analytics are always available, no matter what software you use, including Excel. The difference with Mirus is its ability to pull information in a very presentable format that's easier to decipher and faster to access. An analyst can slice and dice anything in Excel. It's not hard, but it's certainly not efficient. What I like about Mirus is its ability to produce reports in minutes that would have taken hours before. As someone who's spent my whole life in spreadsheets, it's nice to have this tool that produces actionable numbers in minutes or seconds. With Mirus, we're a lot more prepared for the growth we're about to have.
It's definitely changed my work life and is worth every penny.
---
Thoughts?
Have any questions for our clients? Please share your comments and any other tips that may be helpful!
About Mirus:
Mirus is a multi-unit restaurant reporting software used by operations, finance, IT, and marketing.

For more information, please visit: www.mirus.com
If you enjoyed this blog, please share this post by using the social buttons at the top of the page and make sure to leave your thoughts in the comment section below!