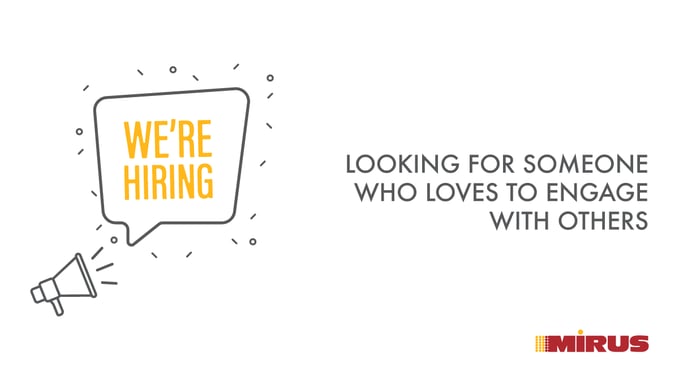 We're growing and looking for additional support for our Account Management team. Our Account Coordinators work closely with our multi-unit restaurant clients and different departments within Mirus. This position is currently remote due to Covid. Read below to learn more and click here to apply.
Account Coordinator Responsibilities
Account Coordinators will be responsible for assisting the Account Manager in servicing accounts, communicating client requests to the Operations and Development teams, as well as communicating project updates back to the Account Manager and to clients. You will also assist with the management of client projects, address and answer client requests, and train our clients on how to utilize our application more effectively.
Qualifications
Candidates who possess knowledge or experience in the restaurant or hospitality industry will be a good fit. We're looking for someone who is familiar with restaurant point of sale and data management systems as well as restaurant analytics.
Experience in project management and working with multiple customer requests in a fast-paced environment is essential. This position also requires creative thinking to solve business problems.
Strong written and verbal communication skills are required along with the ability to communicate technical information to non-technical audiences.
The Account Coordinator continually seeks opportunities to increase customer happiness, deepen client relationships and establish credibility as a business advisor.
About Mirus
Mirus is an industry leader in restaurant data warehousing and custom reporting. Since 1999 we have offered web-based solutions to restaurant executives. We are headquartered in Houston, Texas.
We are a tight knit company that works as a team to exceed expectations and strive for excellence in our ability to develop top of the line software solutions for our clients. Our company continues to grow at a strong pace and we offer a casual and relaxed, yet professional environment.
Benefits
Mirus offers a variety of employment benefits such as:
Competitive salaries
Medical, dental, and vision
Standard Holidays
Paid time off
Centrally located office (Gessner and I-10)
We value our employees' time and efforts. Our commitment to your success is enhanced by our competitive salary and extensive benefits package and future growth opportunities within the company. Plus, we work to maintain the best possible environment for our employees, where people can learn and grow with the company. We strive to provide a collaborative, creative environment where each person feels encouraged to contribute to our processes, decisions, planning and culture.
Restaurant Account Coordinator - Apply Here
---
Thoughts?
Know anyone who may be a match for us?
About Mirus:
Mirus provides services in data management and solutions in custom reporting for the restaurant industry.
For more information, visit: mirus.com
If you enjoyed this blog, please share it by using the social buttons at the top of the page and leave your thoughts in the comment section below.