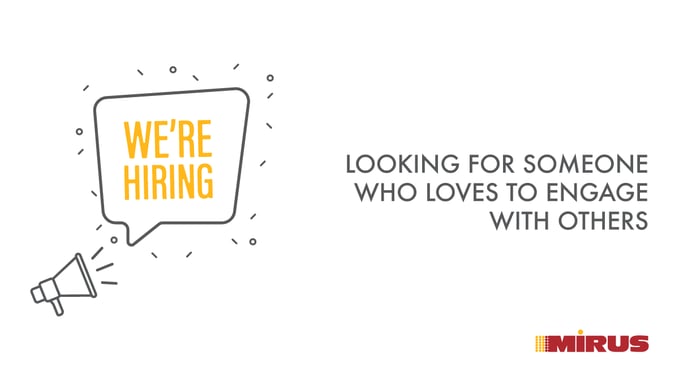 Mirus continues to grow and because of this, we're currently seeking individuals who enjoy working in teams with:
Excellent communication skills
Problem solving skills
Customer service skills
Organization skills
Self-motivation
An understanding of restaurant chains is a plus
An understanding of corporate business reporting is a plus
Mirus is an industry leader in restaurant data warehousing and custom reporting. Since 1999 we have offered web-based solutions to restaurant executives. We are headquartered in Houston, Texas and offer a variety of employment benefits such as:
Competitive salaries
Medical, dental, and vision
Standard Holidays
Paid time off
Professional yet relaxed work environment
Centrally located office (Gessner and I-10, 77024)
We work to maintain the best possible environment for our employees, where people can learn and grow with the company. We strive to provide a collaborative, creative environment where each person feels encouraged to contribute to our processes, decisions, planning and culture.
Current Career Opportunities:
Restaurant Account Coordinator - Learn More

Working with a diverse team and interacting across various departments, you will be responsible for assisting the Account Manager in servicing accounts, communicating client requests to the Solution Operations and Development teams, as well as communicating project updates back to the Account Manager. You will also assist with the management of client projects, address and answer client requests, and train our clients on how to utilize our application more effectively.
Integration Specialist - Learn More

The Integration Specialist's role is to plan, coordinate and supervise all activities related to the integration of new accounts, as well as project work for existing clients. As the Integration Specialist, you will be working with a diverse team and interacting across various departments. This individual is also responsible for reporting back to the Account Management team on the status of the integration plan. Communication skills, problem-solving, project management and knowledge of integrations and restaurant systems are critical for successful performance in this role.
---
Thoughts?
Know anyone who may be a match for us?
About Mirus:
Mirus provides services in data management and solutions in custom reporting for the restaurant industry.
For more information, visit: mirus.com
Watch Mirus demo and client insight videos on our YouTube Channel
If you enjoyed this blog, please share it by using the social buttons at the top of the page and leave your thoughts in the comment section below.