The official numbers for July are now out and it was a bad month for restaurants sales, down by -4.7% according to TD2NK. I thought it would be good to take a mid-month check on the Mirus Index to see if August could be the month to turn things around. Based on the first 14 days of the month, the sales slump continues in August.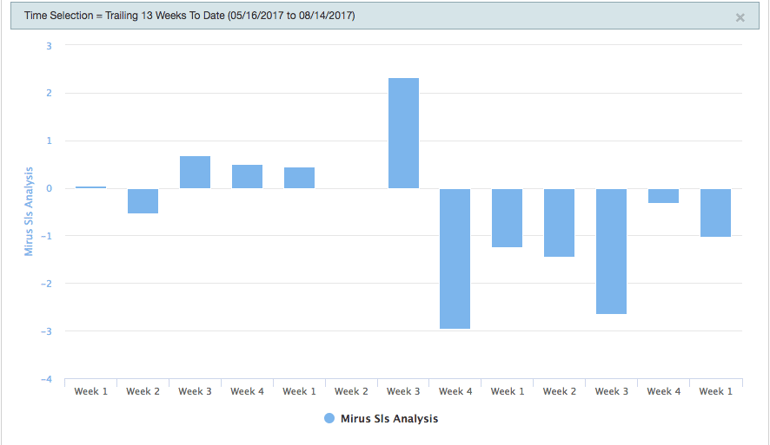 Same Store Sales in Mirus Index were positive in both Q1 and Q2 of 2017, and you can see the trail end of that in the chart above. The positive gains were declining in June, and July 4th was a great weekend, but by the middle of July the month to date numbers were negative and they haven't budged much.
All of this is focused on sales, but what about traffic? Q3 will be the seventh quarter in a row of negative customer traffic into restaurants. TD2NK measures that traffic fell -8.7% from July 2015 to July 2017. The Mirus Index has traffic down -2.7% at the mid-way point of Q3 2017. You can manipulate same store sales, but you can't manipulate customer traffic.
We will keep an eye on things, and keep you informed. If you would like to learn more about how you can get the Mirus Index every day, click on the button below.
About Mirus:
Mirus is a multi-unit restaurant reporting, analytic and predictive software solution set used by operations, finance, IT, and marketing to gain deeper insights into the business.
For more information, please visit:www.mirus.com
Watch Mirus reporting demonstrations and client insights on our YouTube Channel
If you enjoyed this blog, please share this post by using the social buttons at the top of the page and make sure to leave your thoughts in the comment section below!