Dog days of summer
First off, I hope you continue to be safe and avoid the virus. As this pandemic continues, the rate of spread is increasing in many cities around the US. However, the percentage of the US population that has come into contact with the virus was estimated to be no more than 7-8% by the CDC this past week. So, there are a whole lot of us that are unprotected from the virus.
And now for the bad news....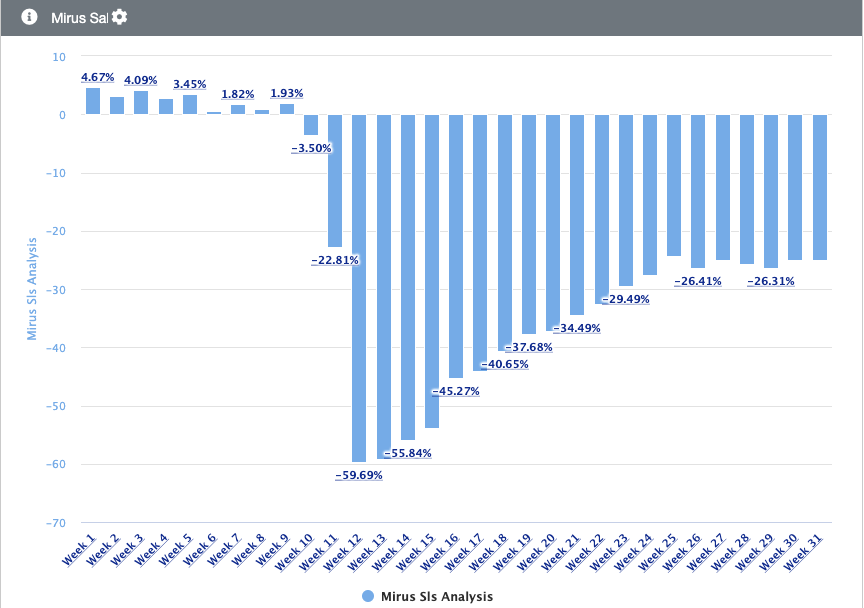 The recovery of restaurant sales has stalled, and they are possibly regressing. If you have been following this diary, you know that the recovery of sales started as early as the end of March, and a continuous improvement extended into late June. The progress becomes erratic at that point, up one week and down the next. That has been July in a nutshell. Let's take a look at the last 13 weeks in more detail.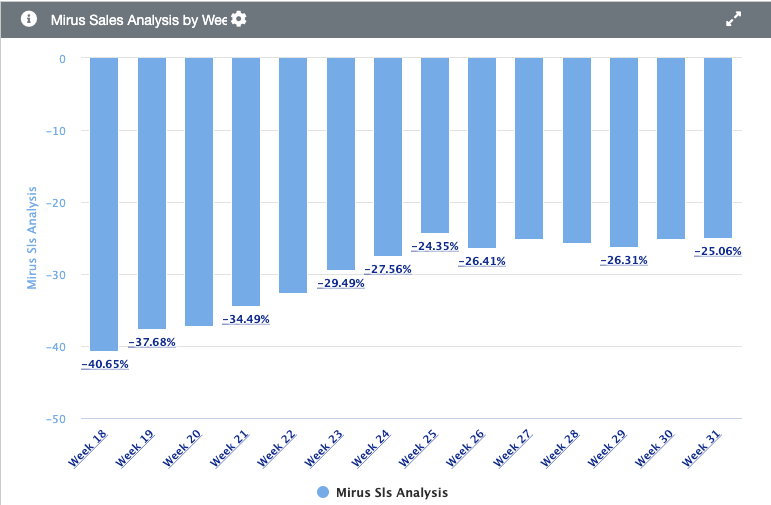 Mirus Index, which is a same-store comparison to the same day last year, is stuck around -25%. This means that, on average, a Mirus client location that is open today is generating about 75% of the sales it had last year. It is important to keep in mind that this is the average, and averages can be misleading in both directions. For example, more than half of our clients are experiencing sales that are better than -25%. But for others, the impact of Covid has been far more dramatic, with sales hovering around -75%, or worse in a few cases.
August is often a long, hot month. This year it is also filled with anxiety about going back to school and wondering what Washington will or will not do, and of course the elections loom.
Trend Interpretation
My interpretation of the latest trend is that we are experiencing the impact of many states taking a step back in their reopening plans. In Texas, for example, a mask order was re-issued in late June, and restaurant occupancy restrictions went back to 50% after operating at 75% of capacity for a couple of weeks. But that alone may not explain the whole story.
Ultimately, restaurant dining room sales will be limited by the confidence of the customers to go into a restaurant. To get all the way back to where we were at the start of the year will require virtually everyone to be comfortable with the notion that stepping into a restaurant can be safe.
New Responsibility
I think that as an industry we need to continue to emphasize the steps everyone is taking to protect customers. And, operators must take on the no-win task of controlling the number of people in each establishment, and making sure that the distancing guidelines are being followed. If we, as an industry, shrug our shoulders at the burden of telling customers to sit down or leave, we will perpetuate the fear that restaurants are not safe.
Governments are putting restaurant operators into the role of enforcer of the orders. That is not a traditional responsibility for many companies, but we all are affected by the impressions created when video shows a group of customers in a restaurant violating the orders that are intended to keep everyone safe. Let's commit to take this new responsibility seriously. If we do, we could accelerate towards a day when our sales are back to where they should be.
And, hopefully we can find a way to make it through the dog days of August.
Please stay safe!
Stay tuned in for updates!
Read the previous diary entry from July 7th here.
Media Contact - marketing@mirus.com
About Mirus:
Mirus provides services in data management and solutions in custom reporting for the restaurant industry.
Enjoyed this blog? Share it using the social buttons at the top of the page and leave your thoughts in the comment section below.