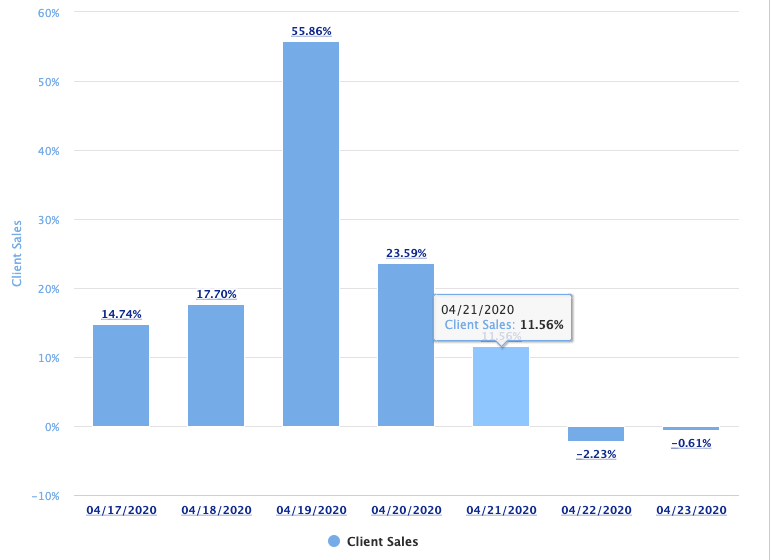 May 11
Thanks Mom!
Every mother loves Mother's Day; a day for them to be recognized and if they are lucky, pampered.
In this Covid-19 world, it also gave a boost to restaurant sales. Traditionally, Mother's day treats restaurants well, and for some it is one of the busiest days of the year. This year, sales at restaurants increased over 44% from the previous Sunday (May 3). And, it's not like May 3 was a soft day; the sales for that day were almost 10% higher than the previous Sunday.
Total sales volume (not SSS) on Mother's Day was also more than 50% of last year's Mother's Day, a milestone celebrated by many. As an industry we have come a long way from a few weeks ago when aggregate sales were down over 70%. It may take some time for sales to fully recover, but the evidence over the past six weeks shows a steady week by week improvement.
The number of restaurants operating on Mother's Day was down about 24% from the prior year. That means that while total sales volume is down about 50%, there are fewer locations generating those sales, so the restaurants that are operating are experiencing a decline of about 35% to 40% from last year, on a Same-Store Sales (SSS) basis. You can see the beneficial affect Mother's Day had on May 10 in this graph as well.
More states are relaxing their stay at home orders, led initially by Georgia and a few others. Texas followed a few days later. Yesterday, Monday, May 11, was the two-week mark since Georgia restaurants reopened. We will be paying close attention to the data over the next few weeks to see if there is any negative consequence to the reopenings. So far, we have not heard of any negative consequence.
It may feel like watching the grass grow, but each day is better than before, so we can all hope that trend continues.
Please stay safe!
---
May 1
Does anyone else sense that time is flying even faster than usual? You may not have this distorted sense of time if you are working from home, or laid off, but it is already May. Some thought at the start of this pandemic that all would be normal at this time. Seems like a silly, optimistic projection today, and we still have no clear picture on how the next several months are going to play out.
For those following this diary, I'd like to say thanks. And, if you have any thoughts or ideas you think would be constructive to our audience, please leave your comments at the bottom of this blog, or email me at dave@mirus.com.
Positive events continue to be revealed. Last week, the sales trend data indicated that we might have hit a bump in the road. Since then, the growth of restaurant sales has continued in a steady fashion. Here is the Mirus Index by Day for the month of April compared to the same day from the Previous Week. Easter is the first thing you might notice. There are two anomalies related to Easter, the week it fell on last year, and the week it fell on this year. The large negative is Easter this year, and the spike is the following Sunday when this year is compared to a weak Easter last year. Keep in mind these are same-store calculations, so a restaurant has to be open this year and last year to be included in these numbers.
You can see that each day is about 3-4% higher than the week prior, after a post-Easter spike that is yet explained. We wondered if this trend was the result of higher sales in each location, or an increase in the total number of locations. So, we put the sales trend and the store count trend together for the following chart. Clearly, the number of locations operating has just recently gotten back to the number operating at the end of March, so the growth in sales is mostly due to higher sales volumes in each location. It makes sense that both operators and customers are getting used to, and executing better as time goes on.
Finally, we came across this visualization that starkly sums up the speed with which things changed for restaurant companies. This chart compares each day to the same day from the previous month. So, in early April the negative growth is being compared to pre-closure sales in early March. The cliff in restaurant sales happened around March 15, after which sales fell dramatically. The switch to positive growth over the previous month is almost as dramatic as the fall, but it will be a few more weeks at this pace before sales volumes are restored to early March levels. The restrictions put into place between March 12 - March 19 by cities and states was the cliff for the restaurant industry. In just one week, hopes and plans for a productive 2020 were set to rest.
Dining rooms opened in several states on Monday, April 27. Another wave of states will open dining rooms today or this weekend. Unfortunately, we will have to wait until May 12, or so, before we will have clear data evidence as to whether these re-openings have created a second spike in infections. If there is a spike, we could be back into the April mode for quite some time. Hopefully, we can all take advantage of the opened dining rooms and behave responsibly, for everyone's sake.
---
April 24 Diary Entry
For those who have been following my posts and articles, you have heard the news that the sales of the restaurant industry hit their lowest point at the end of March. Since then, sales have been improving slowly on a week-to-week basis. In recent weeks, the Mirus Index has shown an increase in sales on a same-store basis.
Since Easter, the rate of sales increase accelerated to about 16%, that is until a couple of days ago.
So, what happened?
April 22 and 23 were suddenly negative after a long string in positive increases over the previous week. This isn't really a surprise because April 22 was the first day to compare to a very strong day the previous week. You can see in the chart below that April 15 saw an increase of 23.3%. the small negative growth on April 22 was due to the strong previous week. Combined, the growth rate is about 10% for both weeks. Not bad in such crazy times.
So, I will provide an update soon that will either show this is a short-lived phenomenon, or the start of a new trend.
Until then, please be safe!
---
April 20 Diary Entry
Things appear to be improving quickly for restaurants that are still operating. The chart below shows the 21 day period from March 31 - April 20, 2020. Each day is compared to the same day from the previous week. Easter is one of the holidays in the date range that has a significant negative effect on restaurant sales. The Sunday after Easter traditionally has a big lift over the previous week, and this year was no different with sales increasing over 60% (it has been clipped in the graph to avoid distortion).
Over this period sales have increased almost 10% while the same period last year experienced a sales decline of (-1.02%). In the week following Easter, the median increase over previous week is 16% - and that is eliminating the Easter distortion. The aggregate dollars for all locations still operating has been increasing for three weeks in a row.
Why are we seeing this type of jump in sales?
Keep in mind that the numbers here are only for restaurants still operating. Overall sales for Mirus clients, including restaurants currently closed, are still down more than -50% on average.
There are lots of factors that are changing quickly, causing the sales to jump around. However, my take on this trend is that both customers and restaurant operators are learning how to adapt to the new situation. Customers are learning how to buy curbside, for example. And, restaurant operators have developed innovative menus such as family bundles to help drive sales. The new normal is settling in, at least to some degree.
While some restaurants continue to close their doors, others are opening up. We know of one client who shut their restaurants down entirely for a few weeks. They spent the time on menus and getting the technology deployed for them to do curbside. Their plan is to reopen locations slowly, one market at a time. There is a lot of confidence behind those decisions, and it is good to see.
On April 20, the governor of Georgia announced that the dining rooms of restaurants could start to reopen on Monday, April 27. We know that decision contains a lot of risk, but also a lot of potential upside. It will be a watershed event and I hope it goes well because a setback would be devastating emotionally and economically.
Soon, we will be measuring the re-emergence of restaurant dining. How different do you expect life to be after Covid-19? Will the industry ever get back to the volumes of business it was experiencing in January 2020? Stay tuned!
---
April 13 Diary Entry
The restaurant industry started the year 2020 stronger than any year in more than a decade, although the impact of Covid-19 was already working its way into the numbers. Between March 12 and March 16, city by city, state by state shut down the restaurant dining room. All of the sports leagues also suspended operations. Curbside, takeout, drive-thru and delivery were now the only service channels for restaurants. That is when it hit the fan. Since then, is there any good news?