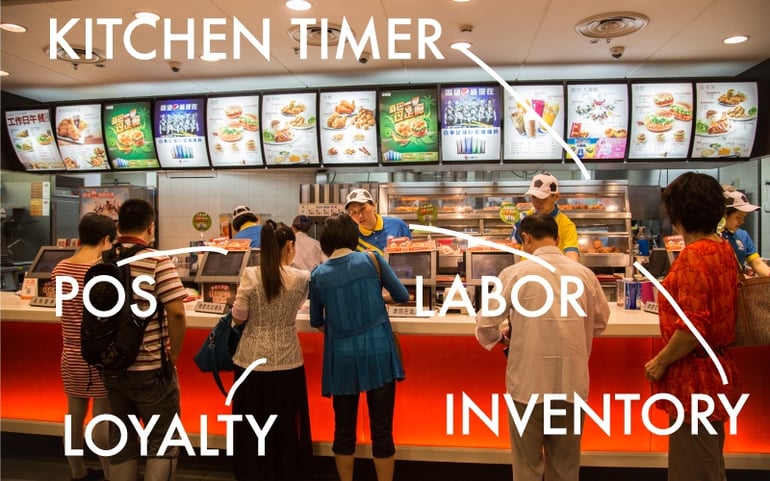 Introduction
A restaurant company has dozens of critically important, inter-connected processes. After all, restaurants are a combination of a factory and a retail operation rolled up into one. And, don't forget distribution. Delivery and catering are both growing revenue centers for many restaurant companies.
To keep track of all these processes without software solutions is a high-risk, low-reward option. A very smart team might be able to keep all the facts in their heads, but they would not be able to grow the business. There aren't enough really smart people in the world to do all this work manually.
So, if you are in the restaurant business, software solutions are as necessary as a stove. But, unlike a stove, you want your software solutions to interact with one another. Software solutions produce data, and data is critical for a company to compete. Examining the data across all of your solutions is the only way to fully evaluate how well the company is doing, and where the opportunities for improved performance lie.
In this blog we are going to:
Outline the extensive categories of software solutions
Describe how they support critical business processes
Illustrate the importance of linking the data between solutions
Software Solution Toolkits:
There are more types of restaurants than we have time to describe in this blog. We all have been to many types, from cafeterias to pretzel stands, from ice cream parlors to fine steak houses. The detailed procedures that each type of restaurant uses are often unique, but they can be generalized without losing too much accuracy.
So, as you read the descriptions below keep in mind that no one needs all of these systems, but most people need most of them. Some of the points below are complete systems, and other points are features commonly found within larger systems.
Front of House solutions include all of the systems a guest might observe or interact with. The purpose of these systems is to improve the guest experience, including ordering the food.

Point of Sale - one of the few universal solutions
Host/table management
Table top ordering
Reservations

Back of House solutions manage the operation of the retail and manufacturing environments, including figuring out how much raw material is needed, and how much labor is needed. It is also often the front end of the company's banking system.

Inventory
Ordering
Food costing
Labor Scheduling
Cash Management/Bank deposits
Manager's Log
Temperature monitoring

Speed of Service solutions measure the speed of execution of the operation from the customer's perspective.


Drive-Thru timer
Kitchen Display System

Customer Feedback solutions capture the voice of the customer after the visit. There are many ways of collecting this feedback, some more direct, some more timely.

Mystery Shopper
Customer complaint line
Customer surveys

Loyalty/Incentive solutions engage the customer to increase their frequency of visits, the amount of spending per visit, or both.

Stored value
Gift cards
Earned value
Opt-in Guest Offer programs

Supply Chain solutions improve the accuracy and efficiency of maintaining the right amount of each inventory item within each restaurant.

Contracted Prices
Commitments
Deliveries
Invoices

Corporate GL/Payroll/Accounts Payable solutions record the financial transactions, maintain financial balances, and control the distribution of funds to employees and vendors.

Sales & Cash from POS to GL
Time Sheets from Back Office to Payroll
Invoices from Back Office to Accounts Payable
Accounts receivable for franchise fees
Cash Reconciliation
Credit Card Reconciliation
Taxes

Human Resources solutions maintain the right amount of people and skills to perform the work in the restaurants and above the restaurants.

Hiring
Training - initial and ongoing
Reviewing
Promotion
Termination

Social Networking solutions collect and manage the comments people are making about your restaurant(s) across dozens of social media sites. Doing this site by site is very time consuming and these systems save time and help keep your messages to the market consistent.

Monitoring & responding
Posting
Measuring/Trending/Tracking

3rd Party Consultants solutions are extremely broad. There is a consultant for every type of decision to be made in a restaurant company. Those experts need data about your company. One of their biggest issues is getting at the details they need to provide their advice to senior management.

Menu engineering
Pricing optimization
Market basket analysis

Franchise management solutions manage all of the activities of finding the right franchisees for your brand, and getting them up and running.

Advertise/Promote
Evaluate
Development Agreement
Measure, Monitor, Renewal

Site Development solutions manage the evaluation, selection and development of individual restaurant locations.


Project management
Demographics/Gov't statistics
Competitive data
Real estate supply
I wish I could say this list is complete, but it isn't. But, you get the point. There are a lot of software solutions needed to run a successful restaurant company.
Each of these types of solutions create value for you by themselves. There should be a return on your investment in each solution you select. There is also another layer of value that each of these solutions contribute to, but you won't hear about it from these vendors.
This additional value is created when you blend the data across all of these solutions into a tool that allows you to see the big picture. This tool has a few names, sometimes referred to as analytics, or data warehousing, or big data. The ability to evaluate all the activity across the entire organization is what distinguishes this type solution from those listed above. For example, by blending data from your POS, food costing and loyalty solutions, you can see more clearly whether you customers in the loyalty program are generating more or less margin dollars than the folks who are not in the loyalty program. Another example is knowing how you product mix changes with different weather conditions. Does rainy weather drive the sale of high margin items, or not?
We will be writing more about these analytic solutions in future blogs, and how they unlock valuable insights into the performance or your company. Value that the other solutions cannot. In these competitive times, you must make the right adjustments quickly. And that requires you to see issues before they become problems. The era of restaurant analytics has arrived.
Conclusion
Successful restaurant companies need solutions to run the business, and they produce data you need to evaluate the company's performance. There are dozens of solutions you could be using to perform the day to day activities, but do you have the solution you need to understand what all of that data is telling you? If you would like to understand more about one of the most effective analytic solutions for restaurants, click the button below.
---
Thoughts?
What data system besides your POS do you get the most value from?
Is there a system I did not mention that I should have?
About Mirus:
Mirus is a multi-unit restaurant reporting software used by operations, finance, IT, and marketing.
For more information, please visit: www.mirus.com
Watch Mirus reporting demonstrations and client insight on our YouTube Channel
If you enjoyed this blog, please share this post by using the social buttons at the top of the page and make sure to leave your thoughts in the comment section below!