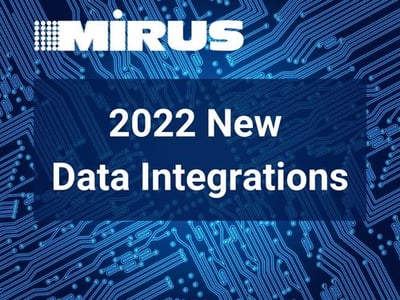 2022 was a busy year for the Mirus team. We welcomed 10 new multi-unit restaurant clients with a total of over 1,000 locations. Our Development team rolled out a number of new features and improvements. While our Integrations team added several brand new restaurant software integrations to our ever growing integration list. Learn more about this year's new data integrations.
Restaurant Software Integrations
On average multi-unit restaurants use over a dozen different software solutions to manage their business. And that list just keeps on growing. Which means valuable data is trapped inside dozens of different systems. By integrating or blending data from different systems restaurants can monitor and manage business performance more effectively.
Simply put, software data integration is the process of combining information from different sources restaurants use into a data warehouse. In order to properly integrate data, it must go through a detailed collection & cleansing process. This ensures the integrity of the data and allows it to be easily combined with data from different systems.
Why Integrate Data?
The main reason why most restaurant executives choose to integrate their data is an effort to have one version of the truth. With information residing in different systems it's easy for people's view of the company to get skewed. Having one source of information for everyone to access gets everyone on the same page.
Combining data from multiple systems provides an incredible amount of insights and may reveal causal relationships.
2022 New Data Integrations
New data integrations are driven by client requests. We're always open to working with new restaurant systems to help our clients more easily access their data.
Here are the new systems and data sets we added in 2022:
COGS-Well - Food Cost, Inventory
R365- General Ledger, Food Cost, Inventory
Black Box Intelligence- Guest Comments
NBO- Recommended & Ideal Labor
Order Pictures- Point of Sale
iBOH- Cash Management
Steritech- Inspections
MarginEdge- Plate Cost
Business Central- GL Export
Decision Logic- Employee Transactions
Some of the systems listed above are not new to the Mirus database, however new data sets are being pulled from the system.
Be sure to view our always growing Integration List to see a full list of systems we've integrated for our clients.