A look back on 2016
Listening and Improving
I asked Dina Misener, Manager of Application Development at Mirus to share her thoughts on what Mirus has accomplished in development during the 2016 year. Here's what she had to say:
"When asked to summarize what the Mirus development team accomplished over the past year, I paused and smiled. In my 15 years as a Mirus development team member, it gives me enormous pleasure to recognize we have had one of the most accomplished years in our history. Mirus underwent a major architectural and visual overhaul. The highlight of the year included the delivery of our new Smart Dashboard and Report View. Both of which were no small task and all teams, not just development participated in making our launches in March and September, a successful one."
We worked to provide our clients with new features like our density option which allows more visual control over reports, to improving performance and the user experience by using AngularJS as our primary development platform. We also challenged ourselves to keep our look and feel consistent to help with ease of use and training as well as improving notifications to keep our users informed. And let's not forget the detailed user feedback we gathered to ensure our vision met their needs.
Strong Growth Through Client Referrals
Mirus experienced another year of strong growth! Here is a list of some of the brands represented by companies who partnered with Mirus this past year:
Peter Piper Pizza
Taco Bueno
Panera Bread
Verts Mediterranean Grill
The Sauce
Krispy Kreme
Popeyes
Auntie Annie's Pretzels
Buffalo Wings & Rings
Hot Dog on a Stick
Blue Sushi Sake Grill
Roja Mexican Grill
Blatt Beer & Table
Plank Seafood Provisions
Gyu-Kaku Japanese BBQ
Ruggles Green
Whataburger
Torchy's Tacos
Benihana
Arby's
Smash burger
Jersey Mikes
Aroogas
Pasta Vita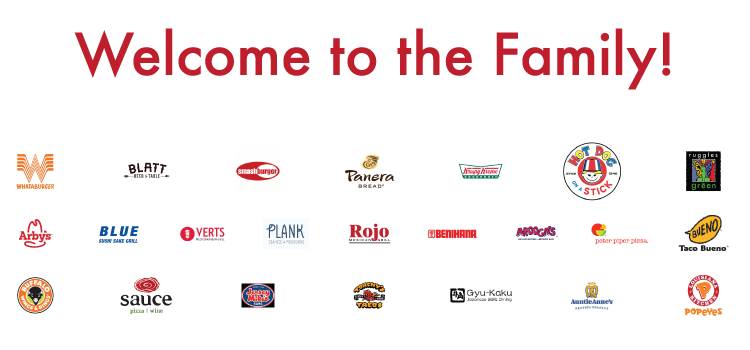 Our Heart Breaks...
After 15 years the person who takes care of us all, Tracey Williford, retired this year. We don't have time to go through all of the things Tracey has done for the company in this blog but I wanted to take some time to recognize all the work she has done and the care and compassion she has had for Mirus. As Dave Bennett, our CEO said, "I will miss her greatly".
UPDATE (January 26, 2017):
We posted this blog originally on 12-20-2016 to share our successes of the year but then we were blessed with more business, more clients to serve:
Portillo's
Hardee's
Carl's Jr.
Original ChopShop
Abe & Louie's
AquaKnox
Atlas
Canvas Restaurant & Market
Napa Valley Grille
Atlantic Fish Co.
Coach Grill
Chroma Modern Bar + Kitchen
ZED451
Joe's American Bar & Grill
Top Catch at Joe's Waterfront
Blackhawk Grille
Timpano
Cafe del Rey
Canonita
Sapporo
Thoughts?
Did Mirus make any improvements you want to praise?
About Mirus:
Mirus is a multi-unit restaurant reporting software used by operations, finance, IT, and marketing.
For more information, please visit: www.mirus.com
Watch Mirus reporting demonstrations and client insight on our YouTube Channel
If you enjoyed this blog, please share this post by using the social buttons at the top of the page and make sure to leave your thoughts in the comment section below!