Our clients love us and we love them right back! We're constantly amazed by their ingenuity and accomplishments. Their ideas and requests are what keep us on the leading edge of restaurant business solutions. Each month we shine the light on our clients, their accomplishments and what they're doing to increase their restaurant profit margin.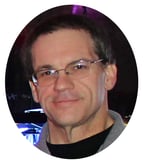 Chris DeFrain, CFO
Lehigh Valley Restaurant Group
21 Unit Red Robin Franchise
Mirus Client since 2013
Since opening their first Red Robin in 1993, Lehigh Valley Restaurant Group has provided employment, memorable guest experiences and great food to thousands of people. They've been in the top 90% of Black Box for the last 2 1/2 years on sales and in the top quartile on guest count. Lehigh Valley CFO, Chris DeFrain, attributes some of their success to their ability to access and really analyze their information.
I had the opportunity to talk with Chris about how he uses reports and information to better his business.
---
Leslie: Why did you choose Mirus?
Chris: Two reasons. Number one, all of our restaurants had POSitouch at one time and then we switched to Aloha and that was really the reason we initially made the switch to Mirus. It was a way for us to aggregate all our data no matter what POS it came from and make our transition over to Aloha smoother. We're a company that always wants to go back and see how many hamburgers we sold on this promo period and how many drinks we sold. We kind of lose that if we picked a vendor that wasn't able to do multiple POS systems.
Number two, and maybe even more important, as a CFO I was frustrated because I always had to go to IT to find out where to find information. Even as the CFO I didn't know because we had it all over the place. Now, I know I can go into Mirus and get the information and if it's not in Mirus there's only one or two other places while we work on migrating it. That was the other big benefit and I have more confidence in the data.
Leslie: What have you found so far?
Chris: So far we've found that we're down in beverage sales as a company even though we're up in sales. Part of it was because of the decision we made to allow servers to do their own split checks and we all knew the problem that could cause with fraud. The beverage order rate report has allowed us to see that we are down about 2% average beverage order rate as a company compared to last year. Now we can look at the team members and see if maybe they just need education, or maybe we need to drill down further and see if they are doing fraudulent things. With Mirus we can zoom in on the team members we want to look at further.
Leslie: How has Mirus helped you with payroll?
Chris: We're using it on the payroll side to monitor team members over 30 hours. We get a report on that. We've also automated our accrued payroll entry. That's probably saved about 3 man-hours a week. Which for a company that tries to run lean on the admin side that's huge. So Mirus gathers the information and we can import it right into our accounting software. Before, we used a spreadsheet that our payroll team had to manually type in.
Leslie: What other reports have been helpful?
Chris: We're going through a remodel project and one of the things we couldn't do before that we can do now with Mirus is get reports by table number. For me as a CFO, Mirus has paid for itself just with this capability, knowing we have 21 stores we have to remodel.
We just re-imaged a restaurant last year and put in a closed in patio at the same time we did a remodel. We couldn't just say we got a 15% lift because of the remodel if we added 44 seats in the patio. By being able to go right to the table number we can see how much sales the patio did the previous year and how much the patio is doing now. We can separate the sales lift from the patio from the sales lift from the inside of the restaurant and separate out what we got from the remodel and what we got from the patio. I did not have that capability before.
Leslie: How do you use these reports to make positive changes?
Chris: I'm a numbers person, when you look at the numbers and you see we know we have an opportunity in beverage costs. We put together a report in Mirus to see are we really down in beverage costs or are guests just spending less. Once you determine guests aren't spending less because their average check is higher you can figure we're just not selling beverages as well as we have in the past.
We've set up a beverage order rate percentage to show us what percentage of guests each server has as far as drinks to see who is going by our Triple R service and who is not. There are some that obviously stand out that are not selling drinks, so they either don't buy into the system or they're not trained or maybe worse, they're stealing.
Leslie: Overall how has Mirus affected your company?
Chris: We've become much more analytical because we believe the numbers. Our team believes the numbers they're getting and they're not doubting every number they're looking at.
---
Are you ready to become a believer? Curious about what these reports look like and what they could do for your team? Schedule a Demo today to learn more.
Thoughts?
Please share your stories, comments, and any other tips that may be helpful!
About Mirus:
Mirus is a multi-unit restaurant reporting software used by operations, finance, IT, and marketing.

For more information, please visit: www.mirus.com

If you enjoyed this blog, please share this post by using the social buttons at the top of the page and make sure to leave your thoughts in the comment section below!