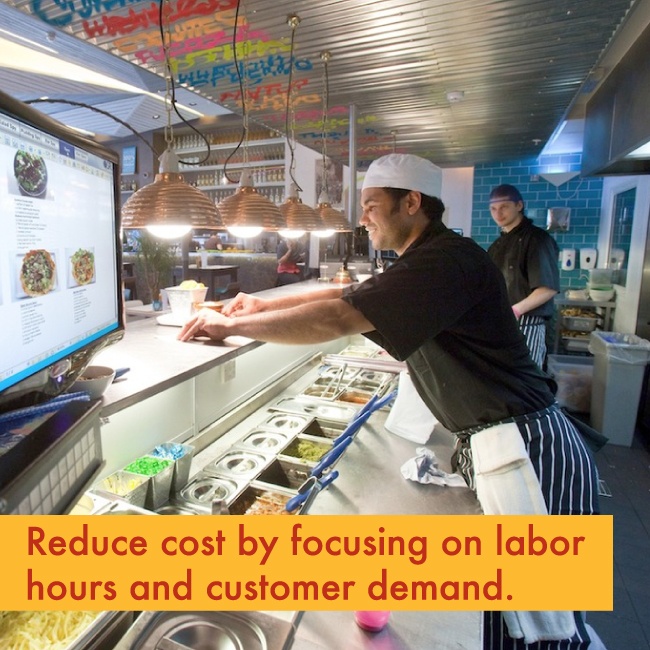 In our first of three labor cost series, we discussed restaurant labor as a percentage and why it's foolish to solely use that method to manage labor cost. In this article, I'd like to touch on how to control cost using effective labor allocation.
Leverage Your Restaurant Staff
In order to properly leverage labor allocation, it's important to understand what variables affect cost. Customer demand and employee resources are two main variables. Controlling the ratio of how busy are we at any particular time and how many employees are working is crucial to controlling labor allocation cost.
If you only focus on labor hours, such as when there was too much or too little labor, you will limit your decision making insight because you only have half of the story.
It's often tempting to schedule more staff than necessary in order to ensure that the business runs without any issues. However, you will not effectively manage cost until you have the proper ratio of labor hours to customer demand.
So how do we do this? Well, identifying outliers is a start.
Quickly Identify Labor Outliers
Visual reports such as graphs are an effective way to quickly evaluate multiple sets of data at one time. The graphs below illustrate how well multiple restaurant are executing their labor strategies. By reviewing the graphs we'll be able to quickly identify where assistance is needed the most.
The graph above shows the position of each store against two metrics: Labor Hours and Covers but these can easily be changed (Labor Dollars, Tickets, etc.) to reflect your particular need.

This visualization above shows customer demand (gross sales) and labor allocation (total labor hours) by hour of the day. The graph uses a double-y technique to show sales and labor by hour on different Y axis. Ideally, the two lines should be close to one another but under no circumstances should the sales cross over the labor. You can see in this example the lines become separated in several places indicating an opportunity to reduce labor.
So you have quickly identified outliers (locations as well as hours throughout the day), what's next? Digging deeper into labor hours is key.
Review Hourly Labor Allocation
Once a site has been identified as operating outside the company labor targets taking a closer look at the site becomes necessary. One of the first things to take a closer look at is labor by hour. As you'll see in the following report it will be easy to identify the hours where management may have had too much or too little labor for the demand.
The two reports below represent labor percentage of sales during high hours (too much labor on the clock for the demand) and labor percentage of sales during low hours (too little labor on the clock for the demand).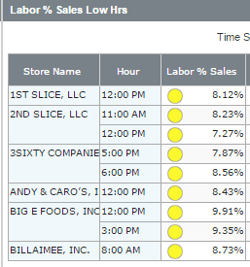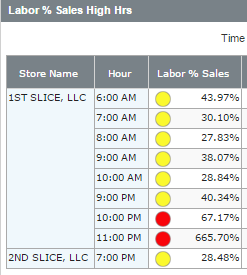 An exception based report (high/low labor percentage) to filter is applied to the information for each location. Reporting is by the hour and KPI's (Red, Yellow, Green) are applied to further show which hours were furthest from the company's labor goals. Any hour that falls within the company specified guidelines will not on these reports, making it easier to identify where opportunity exists.
Management can use these reports to help coach locations on how and where changes are necessary. Moving hours identified on the labor % sales high hrs report, where there were too many employees on the clock, and reallocating those hours to areas identified on the labor % sales low hrs report will result in no added labor costs. This will improve table turns and overall customer satisfaction.
The labor hours by job code report above is an excellent way to help understand and forecast labor requirements. Along with hourly job code reports, labor hours by job code can help management coach the location managers on when, where and how to allocate their staff for maximum ROI without sacrificing customer satisfaction.
Overtime Prevention
Labor Scheduling and Time and Attendance systems provide the means to set up the right plan for the week, but then the changes begin. Visibility above the restaurant to the current schedule and actual hours for each employee for this week is essential to identifying which employees are likely to go into overtime before it is too late. With visibility comes accountability, and better labor management.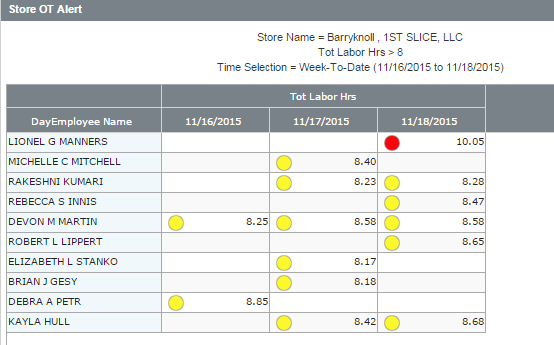 The report above illustrates the use of filters to identify which employees are most likely to go into overtime, before it occurs. The employees are grouped together by store in these examples, but the order can be flipped for companies who share employees across multiple locations.
The exception in this case is employees who have actual hours for any day in the current week that exceeds 8 hours. Notice this approach will lead to a few false alerts. Some employees will work more than 8 hours in a day, but not more than 40 hours in a week. The point of this report is to narrow down the number of employees you need to manage.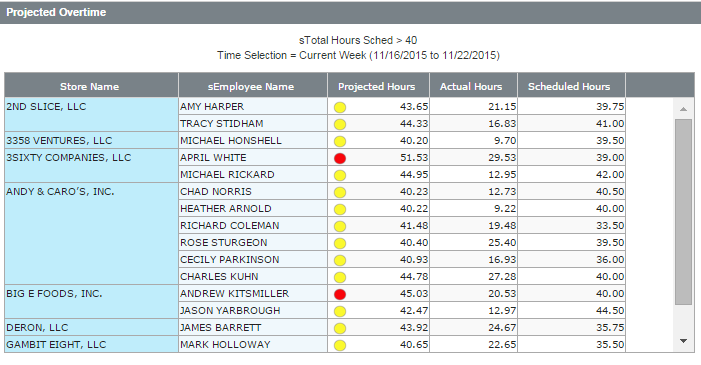 A different approach is taken if the operator has an electronic labor schedule. In this case we calculate a predicted hours measure that estimates total hours for the week for each employee. We do this by adding actual week-to-date hour's to the remaining scheduled hours. The predicted hours are calculated every day for every employee. This makes predicted hours much more accurate and less likely to raise a false alert.
Summary
There are several different variables to consider when considering labor allocation strategies. Making sure you have the proper data and tools to investigate all considerations is key. Make sure you understand what variables your restaurants are putting out and how to properly consolidate and interpret the data.
In the next post, we'll discuss how to "Improve Restaurant Employee Productivity ".
---
Thoughts?
How do you coach managers to make better labor scheduling decisions?
About Mirus:
Mirus Restaurant Solutions is a multi-unit restaurant reporting software used by operations, finance, IT, and marketing.
For more information, please visit www.mirus.com
If you enjoyed this blog, please share this post by using the social buttons at the top of the page and make sure to leave your thoughts in the comment section below!