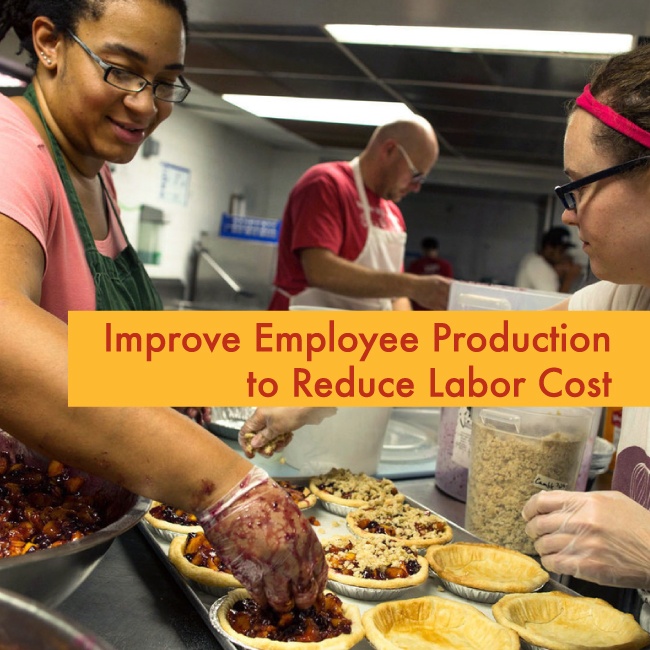 In our first of three labor cost series, we discussed restaurant labor as a percentage and why it's foolish to solely use that method to manage labor cost. In the second part, we reviewed how to control cost using effective labor allocation. In this post we'll discuss restaurant employee productivity.
Employee Productivity Variables
Organizations usually rank high and low performing employees. This identifies the most productive individuals vs. those who may need help. Management often frustrate themselves because a high and low preforming report requires accurate labor hour and geographic data. Also, a consistent customer experience from one location to another, or employee shift length are needed to measure productivity.
Maximize Productivity
I've worked with a multi-unit operator who had a deep care for his employees. He understood that caring for their working environments would improve their satisfaction and in turn improve their productivity. He once told me about how he began a cookie up-sell campaign.
He told his employees across all of his location to think of up-selling cookies as a game. At the end of each period, he would calculate the top performers at each location and reward them.
He noticed that even the employees who did not place top in their locations, enjoyed that friendly competition. He also noticed that this project identified weaker employees who need assistance in one way or another.
But how was he able to quickly and accurately measure all of this? He had a custom reporting system in place.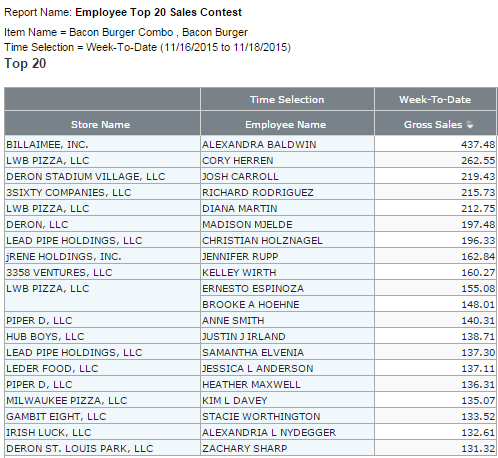 The report above shows a similar example of this particular cookie up-sell campaign. In conjunction with the menu Item filter on the dashboard, can be used to track the dollar sales recorded by each employee. Simply select the item(s) you want to track and the sales of those items will appear for each employee. Produce and share these reports on a daily basis to keep employees informed and foster additional competitive spirit.
Productivity metrics
A challenge for all restaurant companies is identifying their most productive employees. These people set the bar on what is possible to achieve, and you want to identify them so you can get other employees to mimic their productivity.
There are lots of metrics you can use to identify top performers: transactions per labor hour, sales per labor hour, table turns, and tip amounts are all valid measurements of performance and customer satisfaction. Continually measuring and monitoring employee performance allows opportunity for recognition and further development.
Employee Cross Training
Employees should be cross-trained to help in various restaurant tasks. Staff shortages won't impact the restaurant atmosphere if hostesses are trained as backup servers and kitchen workers are trained to bring food to the table in the appropriate manner.
Cross training your staff is beneficial to both the employee and the business, since the worker will have a wider range of skills and be able to help in multiple areas of the restaurant. This allows the manager to schedule fewer workers while still being able to achieve the same production and service standards.
Suggestions for cross training include:
Train your prep cook to handle the grill
Train your host staff to work as back-up servers
Train bussers to help run food to customers
Track Wage Trends
Average wage trends for each restaurant are provided on this report and graph. The previous eight weeks average wage is provided. This allows you to easily compare wages across the restaurants to identify significant differences.

The wage trend report above provides both regular wage per hour, and average total wage per hour. The differences between these two numbers are overtime dollars.
it's important to identify pay rate increases to ensure they're in line with company policy before they reach payroll.
Use Proper Reporting Tools
To control labor costs you need to look at several different metrics individually and collectively to get the most accurate picture and to make effective changes.
No single measure can be used to evaluate productivity and while labor as a percent of sales remains an important metric management needs a better view of its labor than any single metric can possibly provide. The additional information is generally available and can be collected in most cases on a daily basis and the processes to generate the reports necessary, can be automated with a proper reporting solution.
If I could hammer one lesson into you after reading the 3 part series of controlling labor cost, it would be: securely collect your restaurants data and use a reporting solution to gain actionable insight.
Learn more about the Mirus Report Writer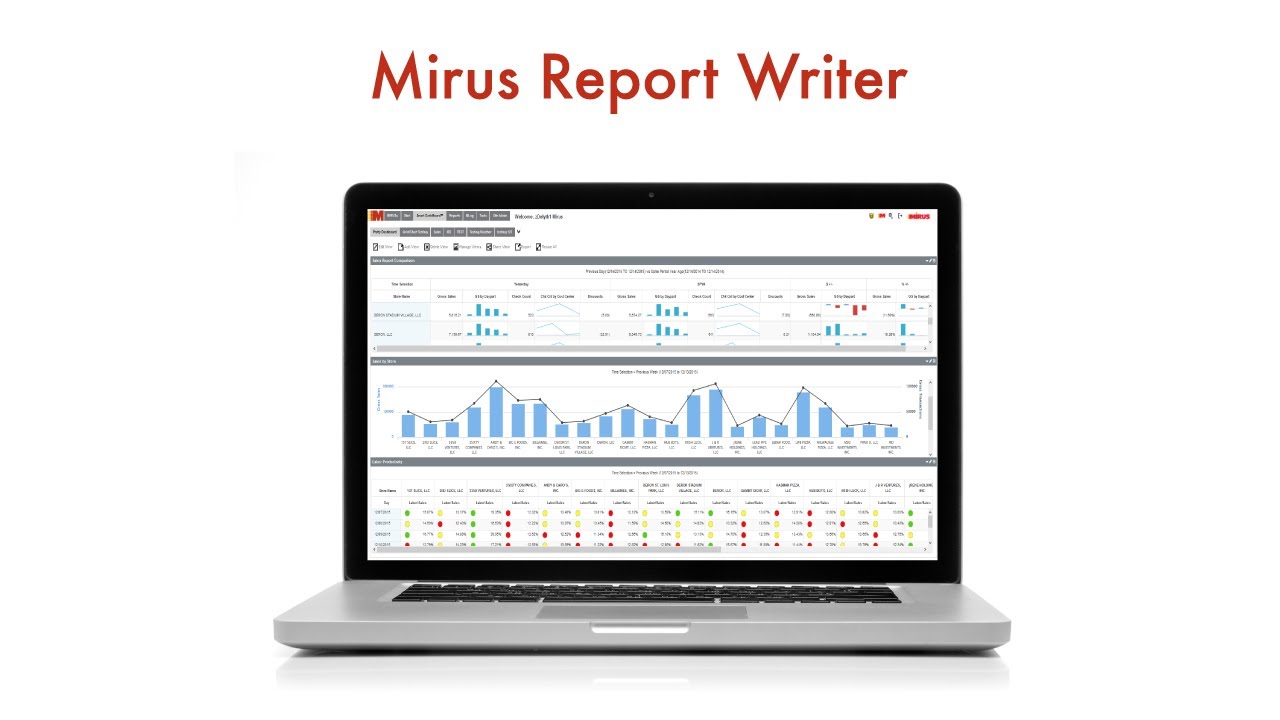 ---
Thoughts?
How are you currently measuring employee productivity? Is it working well for you?
About Mirus:
Mirus Restaurant Solutions is a multi-unit restaurant reporting software used by operations, finance, IT, and marketing.
For more information, please visit www.mirus.com
If you enjoyed this blog, please share this post by using the social buttons at the top of the page and make sure to leave your thoughts in the comment section below!