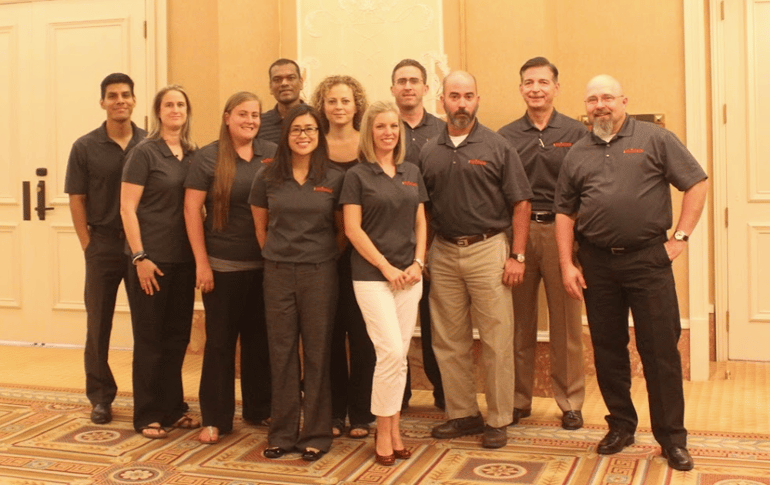 Mirus Restaurant Solutions is a leading provider of business intelligence and data warehouse services for the restaurant industry. The past 18 years have provided us with an enormous amount of educational experiences that have allowed us to fine tune and become the innovative company we are today. But just where did we come from and how has that shaped us? Let's take a trip through time to see how Mirus began, what we've learned and how it's made us who we are today.
The Beginning
It all started as a typical 1998 tech startup in Tampa, Florida. A small group of innovators lead by Brad Anderson formed The Sankaty Group. Like most offerings in the marketplace today, the product was developed as a solution to a problem. Anderson was working for one of his professors who had a consulting business. He was tasked with crunching a lot of numbers to help clients with menu engineering decisions. Using spreadsheets to get the job done proved to be extremely cumbersome. There had to be a better way.
So Anderson began to develop his own data warehouse product to make the task easier. When they weren't playing softball, drinking beer or watching football the group was writing the initial code for what would become Mirus' flagship product: Mirus Enterprise. The group was a unique blend of people from both the restaurant and technology communities with diverse backgrounds. In 2001 the Sankaty Group was acquired by Mirus.
A Valuable Lesson
Before the Sankaty Group acquisition, Mirus was a much different company. With no software of our own we managed several partnerships with software companies. We had partnerships for everything from HR, Labor Scheduling, Procurement, Financials and CRM services. Those early years taught us a very valuable lesson.
To be a Software as a Service (SaaS) company you have to own the software you're servicing. Why? Because if the software is not working you have to be able to respond quickly and fix the problem. You can't do that if you don't own the software. After learning that lesson the hard way, we chose to purchase the one software solution we could service the best, the web-based business intelligence application built from scratch: Mirus Enterprise.
Ahead Of Our Time
The acquisition gave Mirus a clear focus and direction to follow. We had a great group of investors that supported us. There was only one problem, we quickly found out we were way ahead of the market. We had a business intelligence and data warehouse solution for the restaurant industry that we moved to the cloud in 2000. The solution was a good decade ahead of where most of the restaurant industry was at the time.
Restaurant CFOs were getting loads of information from their Point of Sale (POS) systems and were beginning to add in other systems like Back Office and Guest Loyalty. Many didn't know why they needed another system with all the information they were already getting. What they didn't know is all those systems were creating a data management nightmare and they would end up needing a way to pull all that information together. Our mission was to find the early adopters. The restaurant executives that didn't want to just make decisions based on their feelings but on actual data driven facts.
We were fortunate enough to establish early relationships with forward thinking executives at Arby's, Dairy Queen and Church's Chicken. Those early relationships helped drive the innovations and improvements to our services. We've spent many years educating the restaurant industry on how leveraging data can improve operations, leading to improvements in profits. We're just now starting to see the market turn the corner and restaurant executives are becoming much more sophisticated in what they want out of BI. We call this journey the Information Learning Curve.
All In

Our executive leadership (Dave Bennet, Jeff Royal, & Alan Panek) has seen the progress of the restaurant industry along the Information Learning Curve and believes executives are ready now more than ever to reap the benefits of digging into their restaurant data. So much so, that in early 2017 they took the steps necessary to purchase the company from investors.
Bennett originally joined Mirus as Chief Technology Officer in 2000 and shortly after became the company's Chief Executive Officer. His unique blend of technology and restaurant experience working for both IBM and Dunkin' Donuts makes him a perfect fit to lead Mirus.
Royal experienced Mirus from the client side while working for the company's first client, Shells, until he crossed over and joined Mirus in 2000. Wearing many hats he handled ETL, UI and even customer service until Panek joined the company in 2004 as the Director of Account Management.
These leaders have seen the company through the early stages, learned a lot along the way, and are now ready to take Mirus to the next level in functionality and customer service.
Meet the rest of the team here!
Thoughts?
Where do you think restaurant data and reporting will be in 10 years? How will companies be leveraging data?
---
About Mirus:
Mirus is a multi-unit restaurant reporting software used by operations, finance, IT, and marketing.
For more information, please visit: www.mirus.com
Watch Mirus reporting demonstrations and client insight on our YouTube Channel
If you enjoyed this blog, please share this post by using the social buttons at the top of the page and make sure to leave your thoughts in the comment section below!