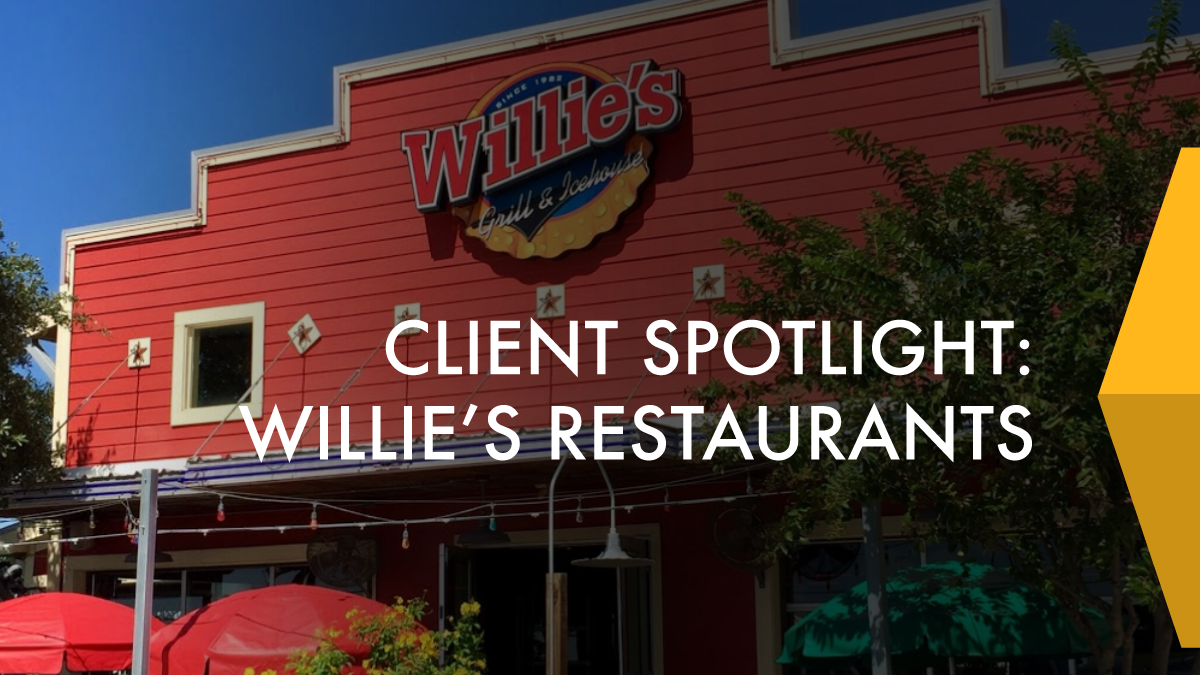 Willie's Restaurants operates two original concepts. Willie's Grill & Icehouse is a casual dining traditional Texas Icehouse where guests can relax and enjoy great food and cold beer in a laid back atmosphere. They also operate Fajita Willie's Cafe & Cantina which specializes in Tex-Mex fare.
Willie's operates a total of 17 locations throughout San Antonio, Houston, and College Station. Each restaurant is unique and tailored to the fit the neighborhood it resides but garage doors and patios are always included for an indoor/outdoor dining experience.
As a Mirus client for over 4 years, we've been helping them manage their sales, actual labor, labor scheduling, speed of service, guest loyalty, and weather data. Not to mention a Point of Sale transition.
I had the chance to sit down with Willie's Financial Analyst, Rikky Salazar, to talk about how Mirus helps them manage labor and increase sales through employee contests.
How does the finance team use data?
Our biggest goal for finance is to give the stores and their operations teams all the tools they need for success. We aim to help make their lives easier by giving them all the data they want and need to be successful and give a good guest experience.
How does Mirus help you do that?
We definitely utilize Mirus' alert feature. Alerts are huge for us. Our management and operations teams really rely on alerts.
Another big win for us has been with labor forecasting and the forecasting tools we've been implementing in Mirus. We set up forward looking reports so we can monitor how we're doing versus our schedule and what we're scheduling and where we're going to hit throughout the week. We know a lot of our results before the week even ends. Mirus is a huge help in giving us that insight.
What other alerts do you send out?
Sales & guest counts alerts are always huge and we utilize appetizers and liquor/beer/wine per 100s for contests and then comps and discounts.
How do you set up your contests?
Since the server rings in the check and closes out the check we do a lot of server based contests for appetizers, liquor/beer/wine & desserts.
For our bar and counter teams we do a lot of store-wide or team concepts. We give away hoodies, Yetis, Astros or Rockets tickets. This helps the counter team feel like they are a part of a successful environment.
How does that affect team morale?
You can definitely tell when the front of house is excited about a contest. Sales really go through the roof and it trickles down to the servers, to the management and to the back of house. Guest satisfaction goes up when the front of house is giving a great experience.
What were you using before Mirus?
Right when I first started at Willie's, they had Mirus for a few months. In a past life with a different company I used Cognos, which was a giant headache.
How does your experience with Mirus compare to Cognos?
With Cognos you have to be really savvy with programming, not necessarily coding but you have to know a lot about data warehouses and how to link to certain tables.
It took me probably about 6 months to become advanced in Cognos. With Mirus I was running reports in like a day or two. It was a huge benefit to really learn on the fly and not have any lag time.
This is your 3rd Mirus User Conference, why do you keep coming back?
It's always helpful. To me the most fun part and the biggest thing is interacting with all the other restaurants and seeing how they look at stuff. And seeing that we both have the same problems. We're both solving for things differently and it's fun just to kind of put yourself in their shoes for 30 minutes during their presentation and try to figure out how you would handle it. It's cool to see everybody's insight.
Anything else?
I would encourage people to come to MCON. It's not overwhelming, it's a good community. Everybody learns from everybody, there's no dumb questions.
I always learn multiple things that I can implement pretty much the next day. It's very, very useful, it's fun, everybody's laid-back, enjoys everybody's company. I would encourage everybody to come at least once, if not more than once.
---
About Mirus:
Mirus provides services in data management and solutions in custom reporting for the restaurant industry.
Watch Mirus demo and client insight videos on our YouTube Channel
Enjoyed this blog? Share it using the social buttons at the top of the page and leave your thoughts in the comment section below.