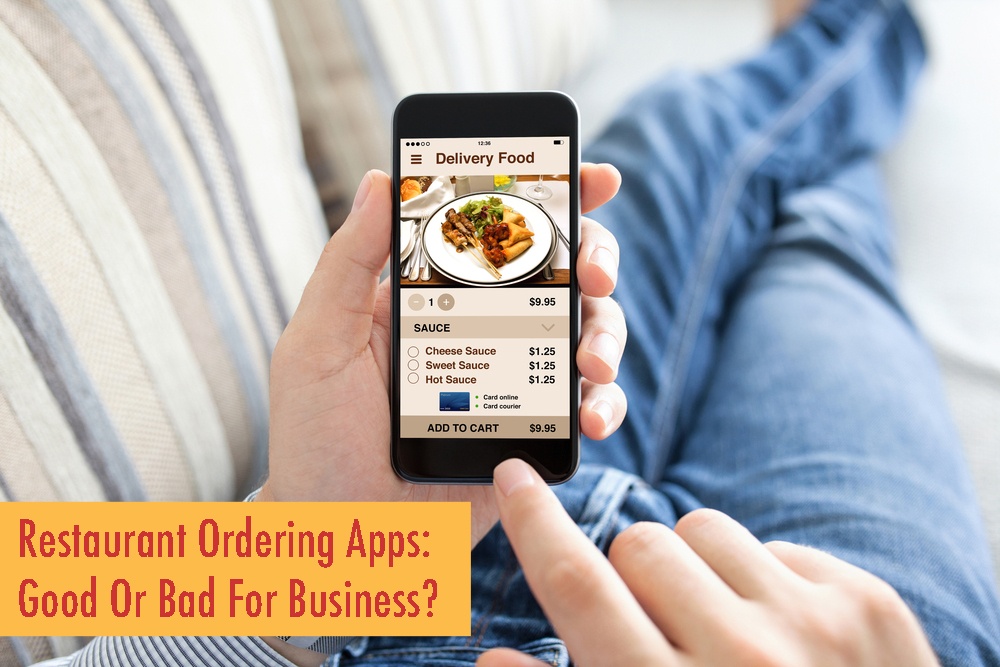 Gone are the days of consumers ordering meals from menus delivered in the mail or left at their doorsteps. The frustration of dictating the order and repeating credit card information to a restaurant employee, struggling to hear over the background noise of a bustling restaurant is coming to an end. Once again, technological strides have brought us one step closer to making our lives easier. All we have to do is download the app, put in our location, and we're shown dozens (if not hundreds) of restaurants in our area that we can choose from. Whether placing an advanced order through an app and having the food waiting for you upon arrival or getting meal ideas for delivery by having access to a plethora of choices, the food ordering apps were intended to take us to the next level of convenience.
But it's not just the restaurant customers who are supposed to benefit from online ordering and mobile apps. Restaurant companies see an opportunity to increase profits also.
The Upside
Restaurants that utilize ordering apps reach a greater number of patrons and the apps never forget to upsell. They can also restructure and improve operations. Employees are able to make the most of their time serving customers rather than attending to phones and fax orders. They're also able to improve the customer experience. Apps enable customers to:
Pre-pay for purchases, which can speed up lines at busy restaurants
Customize pick up times
Offer re-ordering for regular customers
View photos of the food, so they know exactly what they're getting, and will likely reduce complaints.
Apps not only help restaurants improve operational efficiencies by offering faster, easier ordering but also provide a powerful marketing tool, boosting marketing ROI. Many apps support email campaigns and integrate with existing loyalty programs, as well as providing updates on coupons, deals, and promotions.
The Flipside
While apps are designed with the intention of easing use for patrons and increasing sales for restaurants, there are some problems that need to be resolved. One glitch is that not all apps integrate with all Point of Sale systems. If that's the case, then restaurant employees have to manually enter the orders into the POS system. The inability to integrate with the POS system can also be problematic with sales reconciliation. Once the app collects payments, management has to compare against POS data in order to assure accuracy with processed payments.
Another operational headache is to figure out a way to clear the congestion at the pickup counters. Patrons who pre-ordered meals to avoid lines are now causing a longer waiting time for those that are ordering their meals at the counter. Upon seeing long lines, some walk-in customers may choose not to dine at those establishments for fear of a long wait. Some restaurant operators are opting to increase employee count to improve speed-of-service.
Apps Are Here to Stay
Not only is mobile ordering something that customers are demanding, but it's also a major draw for restaurant businesses. Apps can engage customers and increase restaurant sales. Consumers want convenience and speedy customer service and will likely opt for the restaurants with these offerings. While not all restaurant companies are currently utilizing ordering apps, it stands to reason that those without the capability are potentially missing out on a big chunk of the profits.
Ordering apps can, indeed, do right by customers and restaurants when they are made well. But choose wisely. And while there are still kinks to work out, apps are not likely to go away in the near future.
What are your thoughts? Do your restaurants currently offer online ordering or mobile apps?
Thoughts
Agree or disagree?
Do you think restaurants will properly leverage ordering apps?
---
About Mirus:
Mirus is a multi-unit restaurant reporting software used by operations, finance, IT, and marketing.
For more information, please visit:www.mirus.com
Watch Mirus reporting demonstrations and client insights on our YouTube Channel.
If you enjoyed this blog, please share this post by using the social buttons at the top of the page and make sure to leave your thoughts in the comment section below!