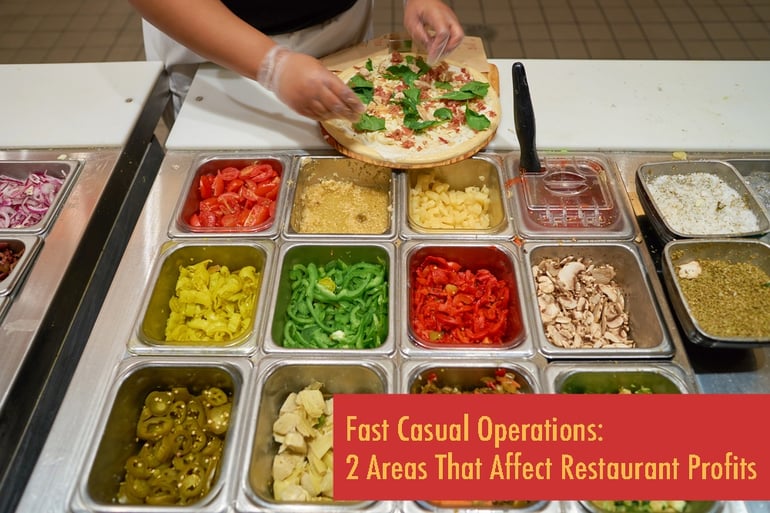 The ordering experience at a fast-casual restaurant can be overwhelming for some guests. Take a second and imagine this scenario with me: You walk into a fast-casual restaurant with a friend. Let's say this is one of those new pizza concepts where you go through the line picking toppings, making your pizza similar to a Subway line.
It's lunchtime, the place is fairly busy. You have a handful of customers behind you as you stare at the menu board above. But it's ok, they are also staring, trying to decide how they should begin their journey. For some, the ordering experience can even cause anxiety. To make the process go smoothly and put guests at ease there are two things fast-casual operators can do. Focusing on these two areas will help fast casual operations increase profits.
1. Menu
Menu complexity and variety are judged by individual tastes and preferences. Right? You may think the seemingly endless options at one restaurant is awesome while your friend prefers to go to that Chicken QSR with 3 menu items.
If an operation keeps the menu organized and easy to understand, the number of menu combinations become less important. A priority task an operator is faced with is menu item profitability. How can you begin to calculate how one item can affect profits let alone how it can affect menu cannibalism?
Some companies collect inventory data, price models, sales history, and more to create pivot tables in Excel spreadsheets. This can create hassle because someone must manually cleanse and integrate the data together. Human-error could happen and never be fully realized until it's too late. Once the spreadsheet is finished it can be a pain to update or even share with others if the data lives on one person's hard drive.
A solution I'd suggest is to use a restaurant reporting software that can assist operations with menu analysis. Mirus has a feature called N-Step which does what pivot tables do without the issues I spoke about earlier.
2. Customer Service
Let's say you and your friend decide on what you want to eat. You begin to make your way down the line picking toppings here and there. Things are looking great for you but your friend is working with another employee and that employee seems to be having a bad day. They don't really want to be there and it's showing. We've all experienced great and poor customer service but from an operations standpoint, both great and poor customer service can and will affect your profits.
It's fairly simple. If you experienced great customer service you may come back more often. You may tell your friends and family about your new "fav" restaurant! However, in this day and age, if you had a bad experience you may chime in your emotions on Yelp. Even worse, you might record a snippet of your frustrations and place that on social media outlets. It's safe to say in that situation, the restaurant's reputation could be at risk, traffic numbers could see a dip, and restaurant profits may take a hit.
So how can we avoid such a negative situation? Training could be an effective way to prevent customer service meltdowns. Perhaps management training could be a higher priority. What if you could just know which restaurant locations have issues and which locations do not? Better yet, which employees need attention and which employees need praise? Wouldn't that make training a bit easier?
Mirus restaurant reports can integrate customer satisfaction feedback with sales data. With that information, you could create scorecards for each location. On top of that, the automated reports could have visual KPIs so when you see red next to an employee, you may want to investigate and if you see a green, you may want to ask what they are doing differently.
Summary
There are many more factors to consider when discussing areas that affect fast-casual restaurant profits but hopefully these two areas gave you some food for thought on how profits could be moved from one direction to another with relative ease.
Mirus restaurant reporting can help your restaurants get a better understanding of what is going on by using the data your locations create. If you'd like to learn more about this process, feel free to contact us! We'd love to help.
---

Thoughts?
What other areas could affect fast casual profits?
About Mirus:
Mirus is a multi-unit restaurant reporting software used by operations, finance, marketing, and IT.

For more information, please visit: www.mirus.com
If you enjoyed this blog, please share it by using the social buttons at the top and make sure to leave your thoughts in the comment section below.