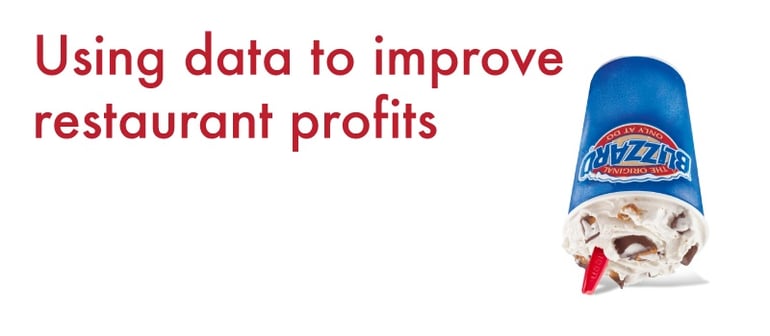 Good things come in small packages. Well at least that was the hope when Dairy Queen launched their Mini Blizzard five years ago. Some worried that offering a smaller version of the brand's top menu item would cannibalize sales of their top seller and higher margin item, the 16 oz. Blizzard. For most companies that's where new products die. Someone voices a opinion based on past experience and their thoughts and feelings and the new product never makes it out of the marketing office. "That is not a good basis for making marketing and operating decisions," says Mirus CEO Dave Bennett. "You need data and facts to back up your decisions."
A Long-time Partnership
Fortunately, DQ had partnered with Mirus back in 2003 to handle their restaurant data. Bennett remembers the 12+ year relationship had an unusual beginning. "We had been talking with corporate for a short while about working together. We got a panicked call on a Friday asking if we could take over their data polling by Monday. The two guys that had been running the polling quit, leaving no one there that knew how it all worked," said Bennett. A classic example he says of why restaurants shouldn't build their own internal systems because as time goes on you end up with no one left that understands what has been built.
The Mini Blizzard Test
The Blizzard was and still is DQ's signature top selling item, accounting for more than 23% of overall store sales. By introducing a mini version of their top item DQ hoped to increase purchase frequency and bundling of food & treat sales. The increase in sales had to be enough to offset the drop in the average Blizzard price. Naysayers thought people would opt for the smaller version cannibalizing their star performer's profits.
Advanced Analysis
Analystsat DQ corporate dug into the data. Using the sophisticated analytical tools provided by Mirus they collected transaction level detail from the point of sale systems. Using Mirus' ad-hoc report writing tools they created reports to measure things like:
Year over year sales
Quantity sold by item and size
Quantity sold by hour
Check averages
Year over year temperature differences
The system's advanced filtering feature allowed them to easily create reports that showed them what other items were included on a check based on the size of Blizzard purchased.
Summary
The data proved the Mini Blizzard is a really good new product. For the first time Blizzards were showing up on checks with food and at a time of day Blizzards weren't normally sold. The Mini Blizzard added new sales and soft-serve profitability was up over 11%. The market basket reports helped marketing create food bundles with the Mini to increase sales.
Mirus is proud to celebrate over 12 years of partnership with Dairy Queen corporate and the Dairy Queen Franchise community. The relationship has evolved from just helping corporate access their data to now focusing on analysis. The Dairy Queen franchisees Mirus partners with are able to quickly access and analyze their data as well as automate a number of manual processes like exports to payroll and general ledger accounts. Franchisees are also able to take advantage of bench markingand compare themselves with other franchisees from a sales and product mix point of view.
For more information on product analysis or to join other franchisees taking advantage of the Mirus relationship click below to start a conversation.
---
Thoughts?
What performance indicators do you use to improve your restaurants?
What's your favorite Blizzard flavor?
About Mirus:
Mirus Restaurant Solutions is a multi-unit restaurant reporting software used by operations, finance, IT, and marketing.
For more information, please visit www.mirus.com
If you enjoyed this blog, please share this post by using the social buttons at the top of the page and make sure to leave your thoughts in the comment section below!