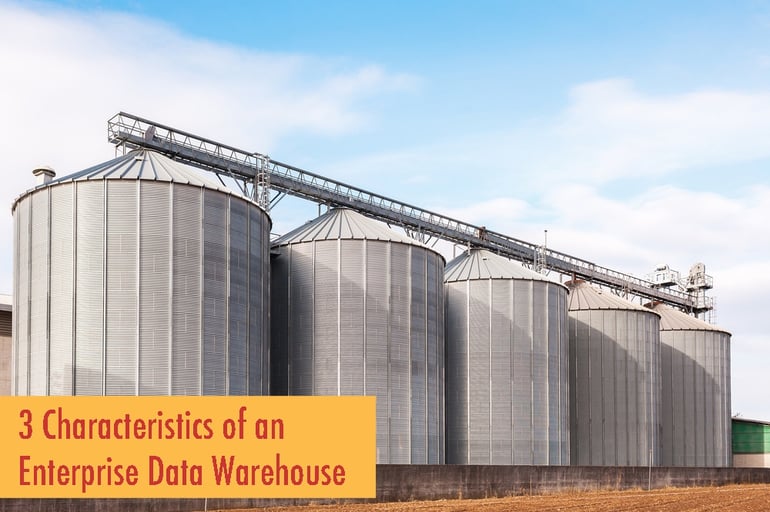 Overview
Before we jump into the characteristics of an Enterprise Data Warehouse ('EDW') it might help to define what an EDW consists of. An EDW is a centralized repository that integrates data from various transactional, legacy, or 3rd party systems and applications that are used to operate and manage your business. In contrast to these systems, the EDW is built for analysis and retrieval of data rather than the upkeep of individual transactional records.
Ralph Kimball, one of the original architects of data warehousing and someone whose teachings we adhere to, provided a more concise definition of a data warehouse: "A data warehouse is a copy of transaction data specifically structured for query and analysis.".
Transactional systems, from a restaurant operators perspective, that generate data include; POS or BOH (Inventory, Food Cost, Invoices and in some cases Labor Schedule), but can also include; Weather, Financial (General Ledger, P&L, Balance Sheet), Budget (Sales and Labor), Payroll, HR/Training, Customer Feedback, Reservations, Loyalty, Mystery Shopper, or any other data created in spreadsheets or generated by systems used in your business.
Without an EDW, companies are left to manually extract their data from multiple sources after which, it must then be compiled into reports and if necessary, distributed to individuals and departments across the organization. Worse still, this process must be completed each time a report needs to be compiled and distributed.
In summary, an EDW is a data repository that helps solve the on-going, tedious and time-consuming problem of pulling data out of any / all of your systems every time you want or need to create a report. Additionally, the EDW provides an environment separate from the operational systems and unlike the standardized reporting delivered by many transactional systems, it's designed to provide business insights through ad-hoc queries, data mining, analytics and comprehensive reporting.
Not all EDW's are created equal so, following are some characteristics to look for and their resulting benefits.
Characteristic 1
A well designed EDW should allow you to consolidate any or all of your data. Using a proven data model as part of the implementation (Extraction, Transformation, Load) process, data from disparate sources will be transformed into a common format and standardized to remove inconsistencies from the various sources. As a result, departments including marketing, finance, operations, HR, etc., will have access to and use the same data repository for their respective reporting needs.

Benefit

Each department will produce reports that are consistent with the other departments within the company or what we like to refer to as a 'Single Version of Truth'. As a result, the overall confidence in the organization's data is substantially increased.

Client Comment

"We've become much more analytical because we believe the numbers. Our team believes the numbers they're getting and they're not doubting every number they're looking at."
Characteristic 2
A well-crafted EDW will store (historical) and provide access to the lowest level of detail (POS example: every line item on every check from every location every day) available from each source system. This capability will help your company turn its data into concise, actionable information that can be used to more quickly make impactful business decisions. Why? Because from an analytic perspective, summarized data is much less valuable than more detailed, or granular, data.
To help showcase the difference let's look at a traditional metric used by almost every restaurant company; Product Mix (PMIX) data. If you wanted to know the top-selling item(s) in a particular time frame, then a PMIX report can get the job done. A PMIX report, however, won't tell you that your number 1 seller was purchased with discount coupons making it far less profitable than your number 4 selling item. For more detailed insights into why Check Detail is superior to PMIX, visit this Blog post – it does a great job of covering this in detail.
Benefit
An EDW that can receive and store the most granular data available from each source system and make it available for reporting purposes will provide its users with more robust, information-rich reports that can help deliver solid business insights for all departments (Finance, HR, Operations, Supply Chain, Marketing).
Client Comment
"Using check level detail and a Mirus proprietary analytic; N Step Filter, we determined that customers purchasing our Group Promotions purchased Fries and Drinks less often than customers that rejected the Group Promotion. As a result, we identified opportunities to modify future promotions that increased fry and drink purchases."
Characteristic 3
Where simple standardized reporting (think DSR from your POS) addresses the need to understand 'What' happened yesterday, the analytic nature of an EDW allows you to understand more deeply 'Why' the results were what they were so the appropriate action can be taken.
Being able to study the data in unstructured ways gives many companies new insights into their performance that traditional reporting is not prepared to deliver. While an ad-hoc report writer is not always a piece of an EDW solution, it is a key point of difference between the standardized reporting delivered by transactional systems and an EDW such as the one delivered by Mirus.
Further, a well-crafted EDW will allow your findings to be easily / automatically assembled and shared with all stakeholders through multiple means of distribution such as; dashboards, email, text messaging or Mobile App for follow up.
Benefit
With Mirus Enterprise's easy to use report-writer, no IT support is required - information creators can access data, analyze, create and share reports while information consumers can easily view, filter and sort and manipulate reports shared to them. The use of a comprehensive EDW solution will enable all users to spend more time analyzing and less time gathering data.
Client Comment
"Using MIRUS Enterprise we were able to identify and reduce variable labor by 20 basis points driving approximately $450,000 in savings. An additional $100,000 in time savings was achieved for Market Leaders (ML) by automating manual labor data gathering processes which allowed more time for ML to focus on crew and results, not data gathering."
Summary
A well designed EDW will consolidate data from the various transactional, legacy, or external systems used to operate and manage your business. Having ready access to reliable, timely and accurate information, management will be freed from making decisions based on limited data or instinct/gut feelings. Decisions that affect the strategy and operations of your business will be backed up with actual fact-based data.
Moreover, decision-makers will be better informed as they will have access to reliable information that's based on their needs and without having to wait on IT or other internal resources for information.
---
Thoughts?
Are you still waiting on IT for your reports?
Is your EDW meeting the needs of all your stakeholders?
About Mirus:
Mirus is a multi-unit restaurant reporting software used by operations, finance, marketing, and IT.

For more information, please visit: www.mirus.com
If you enjoyed this blog, please share it by using the social buttons at the top and make sure to leave your thoughts in the comment section below.