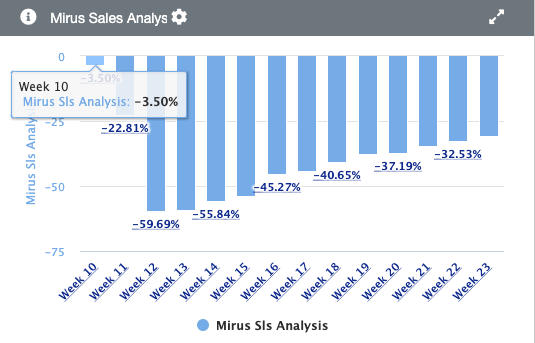 Memorial Day Hangover?
Memorial Day in 2020 fell on the earliest date it can be according to the calendar. And, given the softening of restrictions on restaurants in the two weeks leading up to the holiday weekend, it is no surprise that Memorial Day was a big hit! Sales jumped over 16% over the previous Monday, but was still down -45% from last year.
You hear how numbers can be lead you to the wrong conclusion if not understood. An example of this is illustrated in the chart above on the day after Memorial Day. The chart shows sales were down -3.42% from the previous Tuesday, but what it doesn't show is that May 26 was the best day for sales compared to last year since the pandemic began. The sales this year were only down -41%, meaning the industry had almost 60% of the sales it had last year. That is good news.